Join us for our Hot Topics in Research seminar series. Hear from investigators and trainees showcasing hot research topics on and off the Oak Street campus.
Hot Topics in Research is presented by the BC Children's Hospital Research Themes with the support of the Research Education Team.
Advancing Psychiatric Care through Clinical Neuroscience:
Lessons from Research on Anxiety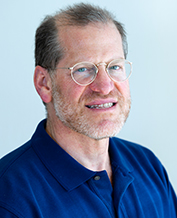 Dr. Daniel Pine, MD
Chief, Emotion and Development Branch,
National Institute of Mental Health Intramural Research Program

This presentation will begin with a review of complexities that challenge attempts to integrate neuroscience and clinical data. The presentation will introduce pediatric anxiety disorders as an area where these challenges might be met and provide two examples where research addresses clinically-relevant questions. In the first example, novel therapy will be described. In the second example, a developmental aspect of anxiety disorders will be described. Both examples provide novel insights on the ways in which neuroscience can address clinically-relevant questions.
Learning Objectives
1. Understand the types of data that inform translational neuroscience research
15 minutes: Research on RDoC, executive function, and neuroscience will be reviewed
2. Understand how attention relates to anxiety
20 minutes: Research on biases in attention will be reviewed
3. Understand how appraisal of emotion changes with development
15 minutes: Research on memory as it relates to appraisal will be reviewed
 
Schedule & Participation
The seminar is scheduled for Friday, January 22, 2021 from 9 to 10 a.m. 
Connecting: https://zoom.us/j/67248959420
Meeting ID: 672 4895 9420
Passcode: 202020 (Zoom Dial-In Numbers)
This Hot Topics in Research seminar is part of the Brain, Behaviour and Development Theme's 5th Annual Research Day on January 22, 2021 from 8:45 a.m. – 12:45 p.m.
All are welcome to register and attend this virtual event at bcchr.ca/BBD-research-day. For more information, email bb&d@bcchr.ca.
About the Speaker
Dr. Daniel Pine is Chief, Emotion and Development Branch in the National Institute of Mental Health Intramural Research Program. Dr. Pine moved to this position in 2000, after 10 years of training, teaching, and research at Columbia University. Since graduating from medical school at the University of Chicago, Dr. Pine has been engaged continuously in research on pediatric mental disorders, as reflected in more than 600 peer-reviewed papers. Currently, his group examines the degree to which pediatric mood and anxiety disorders are associated with perturbed neural circuitry function. Dr. Pine served as the Chair of the Psychopharmacologic Drug Advisory Committee for the Food and Drug Administration, Chair of the Child and Adolescent Disorders Work Group for the DSM-5 Task Force, and President of the Society of Biological Psychiatry. He is a member of the National Academy of Medicine, a Distinguished Investigator indicating stature as among the 1-2% most impactful National Institute of Health intramural scientists, and has received many other awards.
Video Library
Video recordings of public lectures are available online. These may be useful for classes, or of interest to those who are unable to attend events. 

For more information, contact please comm@bcchr.ca.