Past Research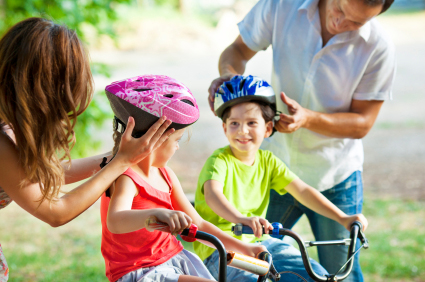 Nature play meets risky play: The influence of outdoor play spaces and risky play on child development
Funded by the UBC Hampton Fund, this study looked at how introducing risky play through the use of natural elements, such as plants and trees, influences children's development and well-being.
Recent generations of children have had their natural play environments substituted with pre-fabricated play spaces that optimize safety and risk reduction with little regard for children's developmental and play needs. This study arose from concerns that societal and parental attempts to keep children safe may have gone too far when it comes to children's opportunities to play, particularly outside.
We examined the effects of an intervention to increase access to nature and challenging play opportunities in the outdoor play environment of two childcare centres with low quality play spaces. Early Childhood Educators observed improved socialization, problem-solving, focus, self-regulation, creativity and self-confidence, and reduced stress, boredom and injury.
The findings suggest the importance of intentional design of outdoor environments to promote children's wellbeing and development.
Published research articles:
Herrington, S., & Brussoni, M. (2015). Beyond physical activity: The importance of play and nature-based play spaces for children's health and development. Current Obesity Reports, 4(4), 477-483. DOI: 10.1007/s13679-015-0179-2
Play worth remembering: Gaining public insights into memories of outdoor play spaces
Funded by the UBC Peter Wall Institute for Advanced Studies, we asked adults to share memories about their favourite play spaces when they were kids. Today, research on children's outdoor play environments has found that safety is the key driver of play space design and the presence of natural elements has decreased. Our aim was to engage the public in dialogue about what children's play was like when they were growing up to help reflect on how it has changed for children today.
Our research used an online survey to better understand the types of landscapes that people considered memorable for play. Participants were asked to recall their favourite play spaces, the elements contained in these spaces, the benefits received by playing in these spaces, and whether they believed they were safe at these play spaces. We found that 69 percent of participants believed today's playgrounds are too safe and only 14 percent recalled that spaces designed specifically for play were their favourite play spaces as children.
This research suggests that there is public support for rethinking the design of children's outdoor play spaces to be more challenging, contain natural elements, and provide access to unstructured play areas.
Published research articles:
Brunelle, S., Herrington, S., Coghlan, R., & Brussoni, M. (2016). Play worth remembering: Are playgrounds too safe? Children, Youth and Environments, 26(1).

Child and youth Burden of injury 

Funded by the Canadian Institutes of Health Research (CIHR), this research examined how injuries affect children and their families. Injuries are the leading cause of death and a major cause of disabilities for Canadian children and youth (PHAC, 2004). Despite the major burden that injuries represent, studies investigating quality of life after major trauma are relatively rare for all ages, and particularly so for children and youth. Further evidence regarding the enormous burden that injuries represent for children and youth, their families and society is necessary to encourage policy makers to act on this costly and preventable issue.
We asked parents of children between the ages of 0 and 16 years who had been admitted to the BC Children's Hospital emergency department (at the time of the study) to fill out a series of four questionnaires over the span of a year related to their child's injury. We were interested in learning:
1) How injuries impact a child's health
2) What might influence how a child recovers from injury
3) How families deal with having an injured child
4) What changes there are in a child's quality of life in the year after the injury
Published research articles:
Bell, N., Kruse, S., Simons, R. K., & Brussoni, M. (2014). A spatial analysis of functional outcomes and quality of life outcomes after pediatric injury. Injury Epidemiology, 1(16). DOI: 10.1186/s40621-014-0016-1
Kruse, S., Schneeberg, A., & Brussoni, M. (2014). Validity and reliability of the PedsQLTM among a pediatric injury population. Health and Quality of Life Outcomes, 12, 168. DOI: 10.1186/s12955-014-0168-2.
Brussoni, M., Kruse, S., & Walker, K. (2013). Validity and reliability of the EQ-5D-3L among a paediatric injury population. Health and Quality of Life Outcomes, 11, 157. DOI: 10.1186/1477-7525-11-157
Fathers' Risk Engagement and Protection (REPS) study
Funded by the BC Children's Hospital Foundation, this study is to develop a survey that looks at how fathers think about protecting children from injuries as well as encouraging their engagement in activities that may involve risks. Fathers with a child who is between 6 and 12 years old and attending BC Children's Hospital are invited to complete the survey. Survey questions address fathers' attitudes and practices towards protective strategies to reduce injury risks as well as promoting risk engagement for children. The study will also look to see if there is a link between these attitudes and practices and the occurrence of childhood injury. This research can eventually be used to help design injury prevention messaging and programs that are specific to fathers' unique perspectives and experiences.
Canadian Fathers study
Funded by the Canadian Institutes of Health Research (CIHR), this study is to better understand fathers' attitudes and practices towards preventing injury and keeping children safe. We have interviewed fathers and mothers of children age 2-7 from urban and rural settings across BC and Quebec to find out:
  - How social ideas about masculinity influence fathering
  - How fathers and mothers make decisions together about child safety
  - How living in different urban and rural settings

To gather information we interviewed fathers and mothers separately and then sent fathers out with cameras to take pictures to represent their ideas about fathering and injury prevention.
Injuries Among Individuals Working in Injury Prevention Study
This study looked at the incidence of injuries among people working in the injury prevention field, including researchers, policy-makers, and clinicians. Using survey data, we compared the types and rates of injuries sustained by this group will be compared to an equivalent subset of the Canadian population. We found that injury prevention professionals were 1.56 times more likely to be injured in the past year despite believing that working in the profession had improved their safety behaviour. We have conducted a similar survey with physiotherapists, which we are in the process of analyzing.
Vancouver Fathers Study
Funded by the Vancouver foundation, the purpose of this study was to develop understandings about what fathers of young children (ages 2-7) think and do to keep their children safe on a daily basis as well as when they are introducing them to new and potentially risky activities. The studied was carried out in an urban setting in British Columbia and involved interviews with 32 fathers. We found that fathers reported using a variety of strategies to protect their children from injury. They also told us about the importance of letting children try new things, even if an activity involved risk of their child getting hurt. Fathers spoke of how risk-taking could help children have new experiences and learn a variety of different things. Fathers described how they tried to strike a balance between wanting to give their child a chance to experience risky activities and protecting them from harm. Fathers also spoke of using a variety of different sources of child safety-related information, with the internet the most commonly used.
The study findings offer important insights to help our understanding about how to better target messages about injury prevention to fathers. Fathering and injury prevention is an important topic for continued research and this study has formed the basis for future studies.

Published research articles:

Brussoni, M. & Olsen, L.L. (2011). Striking a balance between risk and protection: Fathers' attitudes and practices towards child injury prevention. Journal of Developmental and Behavioral Pediatrics,32(7), 491-498. 
Brussoni, M., & Olsen, L.L. (2012). The perils of overprotective parenting: Fathers' perspectives explored. Child: Care, Health and Development. DOI:10.1111/j.1365-2214.2011.01361.x. 
Olsen, L.L., Kruse, S., & Brussoni, M. (2012). Unheard voices: A qualitative exploration on fathers' access of child safety information. Journal of Community Health. DOI: 10.1007/s10900-012-9601-9.  
Secwepemc Injury Surveillance Evaluation
We worked with several Secwepemc First Nations communities in British Columbia, and engaged collaboratively in a process evaluation of their community-based injury surveillance project. The communities had established the Aboriginal Community-Centred Injury Surveillance System (ACCISS), which was designed for implementation by Aboriginal communities to support self-determined action on injury issues. The evaluation process was informed by OCAP (Ownership, Control, Access, and Possession) and a step-wise and collaborative approach to analysis and interpretation was used. Along with identifying challenges and facilitators to implementing an injury surveillance system in First Nations communities, key findings highlighted the important role played by leadership and project champions, having collaborative relationships between project communities, and the importance of a community-based and paced approach. This evaluation outlined a number of factors that could be helpful for other communities considering approaches to undertake injury surveillance activities at the local level.

Published research articles:

Brussoni, M., Olsen, L.L., & Joshi, P. (2012). Aboriginal community-centred injury surveillance: A community-based participatory process evaluation. Prevention Science,13(2),107-117. [PMID: 22138890]

This study was funded by the BC Ministry of Health, Interior Health, Health Canada and Q'wemtsin Health Society.
Child Safety Study
Funded by the BC Children's Hospital Foundation, the purpose of this study was to gain a better understanding of the safety related concerns that parents of children with a disability chronic health condition had about their child's physical safety. For this study we asked parents to participant in an in person interview during which we discussed their child's condition and how it was related to the safety of their child. Learning more about this topic is important as it can provide insight to those planning services and programs for families as well as provide a foundation for further research in this area.