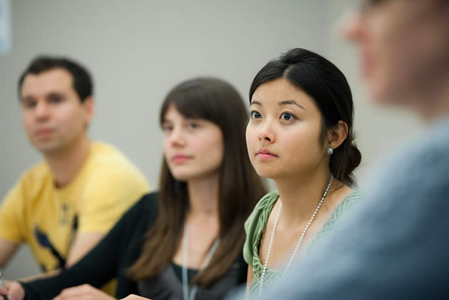 Become a Graduate Student
Dr. Brussoni supervises graduate students through the UBC School of Population and Public Health (SPPH) and the Experimental Medicine Program. If you are interested in pursuing graduate studies, you can check program requirements through SPPH or Experimental Medicine. 
Become a Work Study Student or Volunteer
Work Study is a program at the University of British Columbia that provides students with opportunities to gain professional skills. At the Injury Research Program, Dr. Brussoni places a strong emphasis on students' learning experience. Many students have had the opportunity to gain research experience through working or volunteering in her research office.
If you would like to work or volunteer at the Injury Research Program, please contact 
Dr. Brussoni, visit the Work Study website, and/or apply for a position in UBC Career Services Online.
Examples of past student projects
Students have the opportunity to assist with research-related tasks, including different methods of data collection and data entry. Students also have opportunities to carry out their own research projects, where they would motivate a research topic, analyze and interpret data, and present their conclusions to an audience. Some examples of past student projects are: investigating Post Traumatic Stress Disorder in parents of injured children, determining how fathers' risk-taking attitudes affect children's injury risk, and evaluating the effectiveness of a child home safety website for parents.
Other resources
UBC School of Population and Public Health Courses: