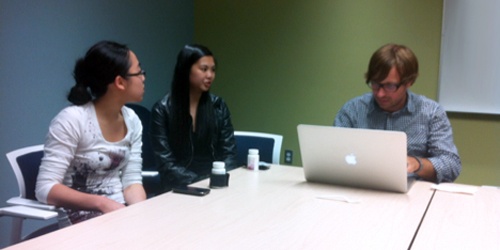 Students working with Jesse Spink, Creative Director of Ayogo Media
News & Media
"A made in B.C. initiative is allowing kids to join the fight against childhood obesity." Elaine Yong reports for Global News.
---
The KidsCan project and its showcase project, MobileKids, were featured in the Ottawa Citizen, the National Post, the Montreal Gazette, the Windsor Star, the Saskatoon Star-Phoenix, the Regina Leader-Post, the Edmonton Journal, the Calgary Herald, the Vancouver Sun and Province:
With the help of the KidsCan Advisors, an independently-produced article was created to summarize the project's major milestones in 2013. Read the article.
The project was also featured in the Research Institute's newsletter. 
The project has been selected for presentations and workshops at international academic and healthcare & technology conferences. 

Researchers
To consult with the KidsCan Youth Advisory Group, please use this form.
For more information on KidsCan, send us an email.
Aspiring advisors
For those interested in joining the Advisory Group, leave us a note using this form!