Youth Advisors
Our KidsCan Youth Advisors are helping to make child-focused research trials produce more representative results through study designs appropriately tailored for children, while getting kids excited about science, technology and research.

Aaron Sihoe
 
  
Aaron is an Undergraduate Research Assistant at the Neuroethics Core and is currently completing a Bachelor of Science focused in Nutrition and Health Sciences at the University of British Columbia. Having always been fascinated with ethics and its implications on decision-making, Aaron is thrilled to have been introduced to the study of Neuroethics by none other than Dr. Judy Illes. Born and raised in Vancouver, his passions include skiing, travelling and spending time with family and friends. He is also an avid hockey player and fan who one day wishes to practice sports medicine.

 

 
 
 

Alyssa Zhao
 
 
Alyssa is a first year Science student at The University of British Columbia hoping to pursue a career in medicine. Her favourite subject being biology, Alyssa is considering majoring in Biochemistry, Pharmacology or Bioinformatics. She strongly believes that advancements in science and technology have the ability to contribute to the betterment of human life.

Alyssa has been a regular volunteer with Canadian Blood Services for almost two years and has volunteered with many other organizations, including the Heart and Stroke Foundation. Volunteering within her community is important to Alyssa; she knows the impact that volunteers have on the overall well-being of the community is substantial. Alyssa believes that KidsCan has the potential to open a new door in the field of pediatric research; one in which youth are granted the opportunity to participate in the research process and contribute to advances in pediatric treatments.

In the time that she is not spending doing homework, cramming for midterms or commuting to school, Alyssa enjoys watching hockey and playing various sports. Tennis, ice skating and horseback riding are among her favourites. Travelling is one of Alyssa's hobbies; she would love to vacation in the Maldives one day. 
 
 
 

Jasmine Peng
 
 
Jasmine is currently a first year student in the University of British Columbia Science One program. In addition to the KidsCan Advisory group, she also volunteers for the Canadian Blood Services, the Heart and Stroke Foundation and the UBC Medical School Stem Cell Club. She is interested in majoring in Biochemistry for her undergraduate degree and would like to eventually attend medical school. She dreams of one day becoming a cardiac surgeon as she has always been fascinated with human anatomy. She enjoys working with children and helping with the recovery of sick or injured individuals.

Her interests outside of school include dancing, singing, tennis, figure skating and playing the piano and the saxophone. She is also a passionate sports fan, taking pleasure in following the NHL, ATP World Tour, BPL and ISU figure skating competitions.
 
 
 

Jessica Bo 
 
 
Jessica is a 2014 graduate of the University Transition Program and now currently attends first-year at the University of British Columbia in the faculty of Engineering. Jessica has had a passion for research from a young age, and always strived to learn about new subjects, pushed herself to find solutions to problems, and frequently attempted to conduct at home experiments. She enjoys combining her love of the arts with her aptitude of engineering design to innovate various mechanical projects that she installs around her room. At UBC, she has chosen to explore her interest in design in the UBC Orbit Satellite Design Team, where she is a member of the structural sub-team that is responsible for creating the chassis of the satellite.

Jessica loves to help out in the community and actively volunteers with the CBS Blood Donation Clinic, the Richmond Family Place Thrift Store, the City of Richmond, as well as many other organizations. She believes that Kidscan is a strong source of youth empowerment and has the potential to be a vital influencing factor in paediatrics in the future. In her spare time, she plays flute with RYCB, does creative writing with the AMS Writers' Guild, and occasionally makes art. She is a hockey enthusiast, and enjoys skiing, biking, skating, and swimming.

 

 
 
 
 
Jessica Jiang
 
 Coming soon....
 
 
 

Katrina Besler
 
Katrina is a first year student at Simon Fraser University, currently working toward a B.Sc. in Molecular Biology and Biochemistry. She is intrigued by the work of the BC Children's Hospital Research Institute, and jumped at the opportunity to get involved.

Letting the voice of youth and young people be heard concerning health research that ultimately seeks to benefit them is not only important but fun, and an excellent way to learn about the field.

Katrina's interest in health and in helping kids is evident in her volunteer experiences and current activities which include affiliations with Free the Children, Best Buddies Canada, BC Children's Hospital Foundation, the Red Cross, Eagle Ridge Hospital, the SFU Pre-Medical Society, and more. Her goals include attending medical school and working as a Pediatric "to-be-determined" and a health researcher!  
 
 
 

Mary Arakelyan
 
 
Mary is a grade 12 student set to graduate in 2015. She is very involved in her school and community and acts as the president of two clubs at her school, serves on Student Council, represents her community's youth as an elected Board Director on the Britannia Board of Management, and is the senior editor for her school's yearbook. She also challenges herself academically in the IB Diploma programme.

Mary was excited to join KidsCan as she believes that considering youth perspectives in research effecting the paediatric population is an essential and often ignored step. Being able to work with researchers to target childhood obesity or develop research protocols for conducting clinical trials on children has been an incredible learning experience. As a youth advisor, Mary has had the opportunity to pursue her passion for health related research and learn more about youth empowerment in a field where youth voice can be scarce.

After graduating from secondary school, Mary hopes to pursue a degree in the sciences and work towards a career in medicine and public health.  
 
 
 
 
 
Milan is a grade 12 student at Moscrop Secondary who will be enrolling in first year Science at UBC in the fall of 2015. He would like to major in Pharmaceutical Sciences before applying to Medical school one day. Milan believes that this group has very high potential to assist and improve the quality of paediatric research. He feels that participating in these significant roles that include working on or advising research projects will allow youth to gain valuable experience in research while simultaneously being involved in their community.
 
 
 

Siaw Yee Chew
 
 
Siaw Yee studies Kinesiology & Health Science at the University of British Columbia. She has been physically active from a young age and enjoys trying new sports and activities! She is interested in health care and believes that young people provide invaluable support and input to the development of new research and technology.

Siaw Yee was a former competitive figure skater and is now a certified Skate Canada coach. She volunteers as an assistant coach for the Special Olympics figure skating program because she loves interacting with people of all ages and skill sets on the ice. Siaw Yee also enjoys playing ultimate Frisbee and dragon boating in her free time.

Siaw Yee's involvement with sport shaped her passion for integrative and preventative health care, which is why she chose to study in the field of Kinesiology. Within the School of Kinesiology, she is a part of the "Make Your Mark" action committee to represent Kinesiology students in a student movement to build an academic hub for integrative and holistic approaches to health and health services. She hopes to pursue a career in physiotherapy to help others achieve a healthy and active lifestyle.
 
 
 

Vivian Tsang
 
 
Vivian is enrolled in UBC's Faculty of Science as one of Canada's 2014 Schulich Scholars. She is a passionate advocate for student involvement in science and believes youth have a critical role to play in improving the healthcare system as a whole. Having been blessed with bountiful opportunities, Vivian has written for Signals blog affiliated with the Canadian Stem Cell Network and has volunteered at VGH for three years.

Outside this field, she has also spearheaded the Humanitarian Organization for Providing Empowerment to help marginalized youth in the city and spoke at this year's We Day Vancouver- presenting her story to over 20,000 people. Vivian is also inspired by global humanitarianism and spent two weeks volunteering in rural China this past summer. In the future, she hopes to combine all these interests to pursue a career with a nonprofit organization such as Doctors without Borders.
 

Researchers
To consult with the KidsCan Youth Advisory Group, please use this form.
For more information on KidsCan, send us an email.
Aspiring advisors
For those interested in joining the Advisory Group, leave us a note using this form!
KidsCan Youth Advisors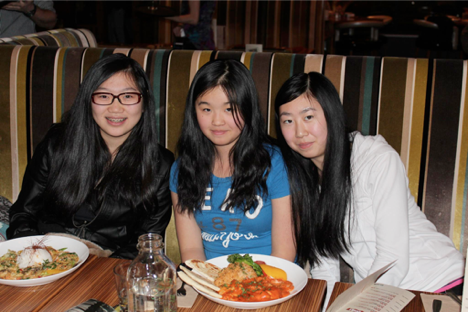 Alyssa, Jasmine & Jessica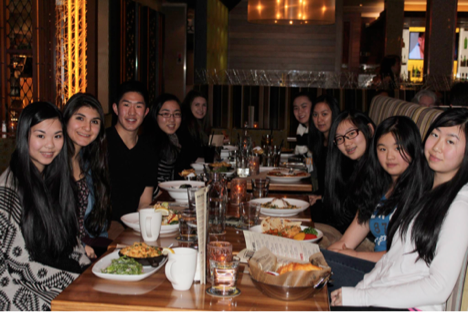 KidsCan Youth Advisory Group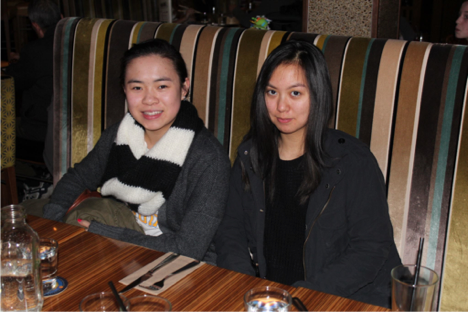 Marissa and Jacquelyn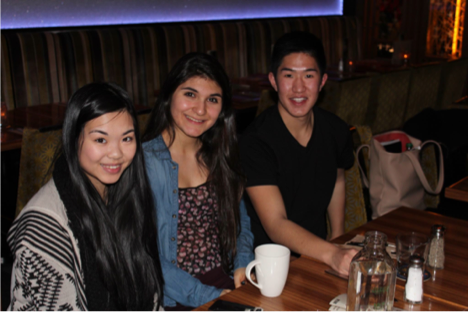 Siaw Yee, Mary and Aaron