Grace McCarthy, former MLA, cabinet minister and long-time supporter of research at BC Children's Hospital, passed away on May 24, 2017 at the age of 89.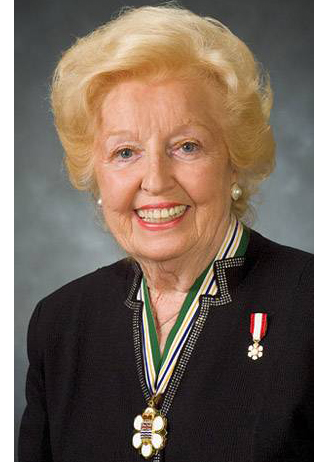 "Hundreds of patients and families across BC and the rest of the country owe their thanks to the tireless work of Ms. McCarthy," says Dr. Kevan Jacobson, investigator at BC Children's and Head of the Division of Gastroenterology, Hepatology and Nutrition with the UBC Department of Pediatrics. "Grace's efforts were instrumental in the expansion of our inflammatory bowel disease and liver research programs, and in the upgrading of the procedural suite at BC Children's." 
Ms. McCarthy established the CH.I.L.D Foundation, the first Canadian charity focused on finding a cure for children with Crohn's disease, ulcerative colitis and liver disorders. CH.I.L.D. has raised millions of dollars to support laboratories and researchers housed at BC Children's as well as the Canadian Children Inflammatory Bowel Disease Network.
"Our inflammatory bowel disease research program is internationally recognized," says Dr. Bruce Vallance. "We're a small group, but our research has a big impact. Grace McCarthy had a lot to do with that success."
Dr. Vallance holds the CH.I.L.D. Foundation Chair in Pediatric Gastroenterology, the first Endowed Chair in Canada for pediatric gastroenterology research. Dr. Vallance is an investigator at BC Children's and professor with the UBC Department of Pediatrics.
CH.I.L.D. also established the first Endowed Program at BC Children's.
Before founding CH.I.L.D., Ms. McCarthy blazed a trail for women in politics and business. She founded a chain of successful flower shops and served in the provincial legislature for three decades. She received many national and international honours and was named an officer of the Order of Canada and one of BC's Top 10 Citizens of the Century.
Ms. McCarthy was honoured with a state funeral in June 2017.