About Pocket Doc for Pneumonia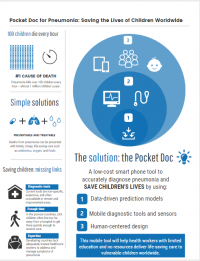 Pocket Doc for Pneumonia is a low-cost smartphone tool that uses a light-weight sensor and a data-driven app to assess a child's vital signs and overall condition, deliver an accurate diagnosis and recommend inexpensive, life-saving treatments such as antibiotics, oxygen and fluids. This powerful diagnostics tool will be designed for and in collaboration with health workers with limited education working in remote and developing parts of the world. Over the next three years, Dr. Mark Ansermino and his team will design, deploy and validate the Pocket Doc for Pneumonia for use worldwide. It will be tested in south-western Uganda, where the project team has established strong partnerships with groups, including the Ministry of Health.
The Pocket Doc for Pneumonia project is led by Dr. Mark Ansermino, Dr. Tex Kissoon and Dr. Guy Dumont.
"This is an unprecedented opportunity to change the way we diagnose and treat the leading cause of death of children worldwide," says Dr. Mark Ansermino, the project lead, an investigator at BC Children's Hospital and professor in the Department of Anesthesia, Pharmacology and Therapeutics at the University of British Columbia. "This project will enable us to deliver a smart integrated technology platform to help save children with pneumonia."
Click on the infographic to learn more. 
The Pocket Doc for Pneumonia will save kids' lives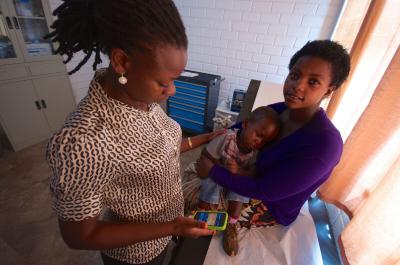 Childhood pneumonia is the leading cause of death for children under five years of age worldwide. In 2015, at least one million children under the age of five died of pneumonia (UNICEF 2016). Pneumonia kills more children worldwide than any other type of infection, including HIV, tuberculosis, Zika, Ebola, and malaria combined (PATH 2016). In many cases, it is the final common pathway to death from these conditions. Deaths from pneumonia are more common in the poorest countries where there is limited access to adequate health care, nutrition and basic sanitation. Children in poor families or in marginalized populations are especially vulnerable.
Improved tools for pneumonia diagnosis have been estimated to be able to save one-million lives by 2030 – more than any other innovation applicable to children (PATH 2016). "Pocket Doc for Pneumonia will ensure that lifesaving treatment is given to thousands of children around the world," says Dr. Ansermino.
Improving care
In low-resource settings, the diagnosis of pneumonia can be inaccurately based on measurements of symptoms and respiratory rate. X-rays and laboratory tests are often too expensive or unavailable. This can result in diagnostic errors, poor treatment decisions and even death.
Pocket Doc for Pneumonia will seamlessly integrate:
A low cost sensor, the Phone Oximeter, that accurately measures blood oxygen levels via a device attached to a mobile phone
A mobile app, RRate, that quickly and accurately measures respiratory rates in children
Additional technology and data-driven predictions that use clinical signs and symptoms to produce accurate and individualized treatment recommendations
A precision health tool, Pocket Doc for Pneumonia will assist with the diagnosis and will inform treatment plans for children suffering from the infection.
Making this research possible
This funding application was made possible through a partnership between BC Children's Hospital Foundation, BC Children's Hospital Research Institute and the Centre for International Child Health (CICH) at BC Children's Hospital. 
About the Google.org Impact Challenge Canada
The 2017 Google.org Impact Challenge Canada awarded a total of $5 million to 10 projects. The Pocket Doc for Pneumonia was awarded $250,000, receiving in-kind support from Google and LEAP, The Centre for Social Impact. LEAP is a venture philanthropy organization that brings together non-profits, private equity and industry experts.