In vulnerable newborns, bacterial infections are often difficult to diagnosis and can quickly lead to sepsis, a serious condition that can result in organ failure, tissue damage and death. Sepsis is challenging to treat in any circumstance and kills more than 1 million infants every year worldwide, mostly in low- and middle- income countries with limited health care resources.
"Young infants can become very ill very quickly from bacterial infections, and the diagnosis of neonatal sepsis can be extremely difficult, even for experienced clinicians. Making the right diagnosis at the right time can be the difference between life and death."
Dr. Pascal Lavoie
Dr. Pascal Lavoie and a team of BC Children's Hospital researchers are working with health care providers in Malawi, one of Africa's smallest and least developed countries, to develop a tool to improve early diagnosis of neonatal sepsis. Dr. Lavoie is an investigator at BC Children's, Neonatologist at BC Children's and BC Women's Hospital + Health Centre, agencies of the Provincial Health Services Authority; and an Associate Professor, Division of Neonatology, Department of Pediatrics at the University of British Columbia.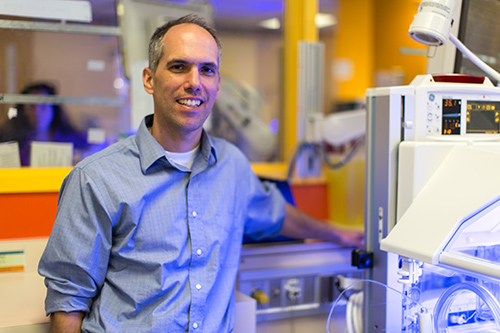 This project was made possible by the recently announced funding from Grand Challenges Canada. Supported by the Government of Canada through Global Affairs Canada, Grand Challenges funds innovative solutions to save and improve the lives of women and children in the developing world.
In Malawi, approximately 14,000 babies die before they reach one month of age each year, and about 20 per cent of those deaths are due to infections such as sepsis. Accurately diagnosing sepsis in newborns is particularly challenging in rural, remote and underserved regions where health care workers may not have access to the right tools or doctors with advanced training in neonatal medicine. A baby with a bacterial infection that is misdiagnosed or treated too late may die. Inaccurate diagnosis can also lead to a child being treated with antibiotics unnecessarily, wasting scarce resources.
Dr. Lavoie and his team, supported by UBC and the Centre for International Child Health at BC Children's, will be working at the Kamuzu Central Hospital (KCH) in Lilongwe, Malawi. KCH is the largest referral hospital in central Malawi, serving approximately 5 million people. As with all levels of hospitals in the country, KCH faces a shortage of resources and struggles to support the number of patients it serves.
Over the next 18 months, the team will survey families and collect data, such as vital signs and blood test results, from 500 infants with clinical signs of sepsis. This information will be used to inform the development of a simple, low-cost smartphone tool that interprets clinical information to help doctors make the right diagnosis quickly, resulting in better-informed treatment decisions.
"Using readily-available, inexpensive tools will allow clinicians to make better use of resources in an already overstretched health care system in Malawi," says Dr. Lavoie. "Better tools will also result in better diagnoses, which will prevent unnecessary treatments and, most importantly, save lives."
Funding:
Project funded by Grand Challenges Canada
Key Collaborators:
Dr. Pascal Lavoie, BC Children's Hospital investigator; Neonatologist, BC Children's and Women's; and Associate Professor, Division of Neonatology, Department of Pediatrics, UBC
Dr. Niranjan Kissoon, BC Children's Hospital investigator; UBC and BC Children's Hospital Professor in Critical, Department of Pediatrics and Emergency Medicine, UBC
Dr. Mark Ansermino, BC Children's Hospital investigator; Anesthesiologist, BC Children's Hospital; and Professor, Department of Anesthesia, Pharmacology and Therapeutics, UBC
Dr. Guy Dumont, BC Children's Hospital investigator; Professor, Department of Electrical and Computer Engineering, Faculty of Applied Science, UBC
Dr. Msandeni Chiume-Chiphaliwali, Kamuzu Central Hospital, Malawi, Lilongwe Malawi
Dr. Norman Lufesi, Community Health Sciences Unit, Lilongwe, Malawi
Ms. Jennifer Claydon, Neonatal Research Coordinator, BC Women's Hospital / BC Children's Hospital Research Institute
Dr. Constantin Popescu, PhD student, BC Children's Hospital Research Institute and UBC; Clinical Associate, Division of Neonatology, Department of Pediatrics, UBC