New Pneumococcal Vaccine Study
Researchers at the Vaccine Evaluation Center (VEC) would like to evaluate a new vaccine to protect children against pneumococcal disease, which is a major cause of septicemia (blood poisoning), meningitis, pneumonia, and ear infections.
This research study will test a vaccine called SP0202 that may provide more protection against pneumococcal disease than the current vaccine (called Prevnar 13).
What is pneumococcal disease?
Pneumococcal disease is caused by the bacteria Streptococcus pneumoniae (SP). This is a major cause of infection of the ears, sinuses, blood, lungs, and brain. Children under 2 years of age have the highest rates of disease. Even with treatment, many children with severe disease may die or experience severe complications, such as meningitis, pneumonia, septicemia (blood poisoning), hearing loss, or brain damage.
Study information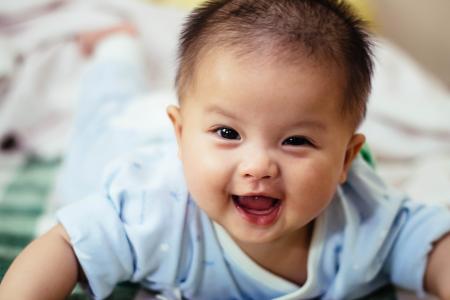 Who can participate?
Your child may be able to take part if they are a healthy infant who is about 2 months old at the first visit.
What does the study involve?
This study will involve you and your baby coming to 6 visits at the VEC at BC Children's Hospital, taking approximately 10 hours total over 11 months. Your child will be seen when they are 2, 4, 6, 7, 12 and 13 months old. We will ask questions about your baby's health and collect 3 blood tests total. We will also contact you by phone when they are 18 months of age. Visits will include vaccinations for your baby's first year.
Why are we doing the study?
Researchers at the VEC and the University of British Columbia will help to evaluate a new pneumococcal vaccine to protect children against 21 types of SP bacteria. The currently approved vaccine (Prevnar® 13) protects against 13 types of SP, and is more than 90% effective in protecting infants and young children against pneumococcal disease caused by these 13 SP types. The new vaccine may provide protection against 8 more types of SP bacteria
Who is doing the study?
This study is being done by doctors and research staff here at the Vaccine Evaluation Center (VEC) at the BC Children's Hospital Research Institute in Vancouver. The VEC has received financial compensation from the Sponsor (Sanofi Pasteur Inc.) for the work required in doing this clinical research.
Dr. Sadarangani and the research staff are employed by the University of British Columbia. Neither Dr. Sadarangani nor the research staff are being paid by the Sponsor.
In total, there will be about 840 children taking part in the USA, Canada, and Honduras. In Vancouver, the VEC will be enrolling about 14 participants.
How do I sign up for this study?
You can click here and fill out an inquiry form.
You can also email vecstudies@bcchr.ubc.ca or call the Vaccine Evaluation Center at 604-875-2187.
If you are interested in joining one of our studies or
would like to be added to our contact list, click below.
Click Here to Participate