The Digital Health Research Strategic Initiative is building an active innovation pathway from research to clinical care. We aim to increase equitable access to high-quality care in line with the BC Children's Hospital Research Institute's goal of improving the physical and mental health of children and families in B.C.
Our focus is on:
Patients: Empower patients and families to become equal partners in health research and care
Team: Grow and connect our Digital Health Research community to nurture the next generation of leaders 
Data: Derive information and knowledge from data so we can enable innovations
Innovations: Develop, evaluate and implement innovations to improve the health and care of children and families
What is Digital Health?
Digital health is a broad umbrella term for any digital technology used to support health-care delivery and access and the maintenance of good health and wellbeing. (www.euro.who.int/en/health-topics/Health-systems/digital-health)
Digital health can improve both care quality and access to care by removing social and distance barriers, serving as a pathway to prevention, and providing an opportunity for impactful, real-time patient care through improved data access and governance. To be maximally effective, digital health needs to involve patients, their families and their care providers in the development of these services.
The Digital Health Innovation Pathway
Innovation is an active process that moves an idea into a product or service to create impact. We support the BC Children's Hospital research community through this process starting with defining the clinical need and developing digital health research ideas, through to the sustainable implementation of evidence-based digital health products or services.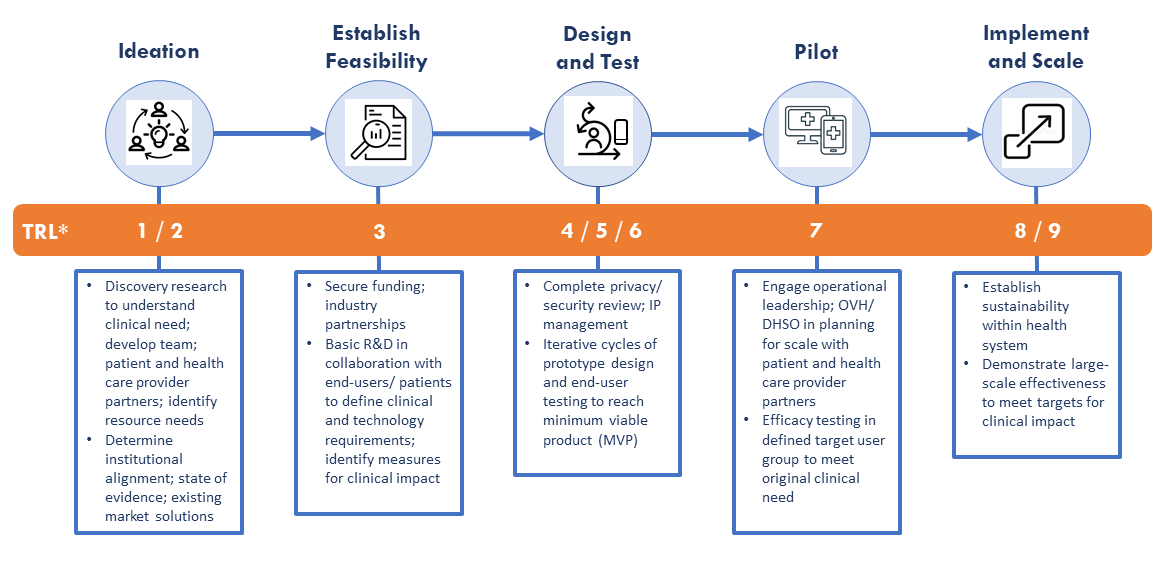 *We use the standardized framework of technology readiness levels to support investigators through this innovation process.
Interested in starting a Digital Health Research project at BC Children's Hospital?
Please contact the Digital Health Research Project Manager at dhr@bcchr.ca for more information on the services we provide.