Discovery Talks are the research community's international seminar series. Featuring influential research leaders from around the globe, the series promotes knowledge exchange, fosters international collaborations and showcases the latest innovations in research. 
The Healthy Starts Theme at BC Children's Hospital presents:
Mitigating the COVID-19 threat with vaccines - the evolving Canadian story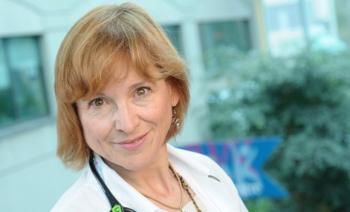 Dr. Joanne Langley, MD, MSc
Co-Chair, COVID-19 Vaccine Task Force
Head, Division of Pediatric Infectious Diseases, IWK Health Centre
Professor, Department of Pediatrics & Community Health and Epidemiology, Dalhousie University
Schedule
The seminar is scheduled for Tuesday, February 23, 2021 from 10 - 11 a.m. 
Connect on Zoom: https://ubc.zoom.us/j/68779393997?pwd=SEkzck5EUEhZRkl1WWxQMVhIeVE1Zz09
Meeting ID: 687 7939 3997
Passcode: 083394

This keynote presentation is part of the annual Healthy Starts Research Day. 
About the Speaker
Dr. Joanne Langley is a pediatric infectious disease physician in the Department of Pediatrics and is cross-appointed in the Department of Community Health and Epidemiology in the Faculty of Medicine at Dalhousie University. She is based at the IWK Health Centre and the Canadian Center for Vaccinology. Dr. Langley was recently named co-lead of Canada's COVID-19 Vaccine Task Force. She conducts studies on the prevention of infectious diseases using vaccines, from phase 1 (first in humans) through to efficacy trials (phase 3) and post-marketing studies of how well vaccines work when they are used in immunization programs (phase 4). These studies are done with collaborators in public health, industry, universities, and non-governmental organizations. Dr. Langley has a particular interest in prevention of respiratory infections such as Respiratory Syncytial Virus and influenza. Her work also focuses on vaccine policy and evidence-based decision making in immunization programs. She is a member of the COVID-19 Science Expert Panel, and of the Expert Group on Health Systems of the Chief Science Advisor of Canada, and a former member of the Canadian Task Force on Preventive Health Care and Canada's National Advisory Committee on Immunization (Chair, 2007-2011), and serves as an advisor on several immunization decision making expert groups. She is an active investigator in the Canadian Immunization Research Network and leads its Clinical Trials Network (CTN).
Participate
Discovery Talks is accredited as a self-approved group learning activity (Section 1) as defined by the Maintenance of Certification program of the Royal College of Physicians and Surgeons of Canada. CME credits are available for all participants.
Video Library
Video recordings of previous lectures are available online. These may be useful for classes, or of interest to those who are unable to attend events. 

For more information, contact please comm@bcchr.ca.