The Canucks for Kids Fund Childhood Diabetes Laboratories was established in 2012 with its aim to improve the lives of children with diabetes by advancing knowledge of type 1 and type 2 diabetes, through innovative and multi-disciplinary basic and clinical diabetes research. Research is aimed at understanding the causes of types 1 and 2 diabetes and improving treatments.
 
Our team brings together researchers from a variety of backgrounds – including virology, genetics, immunology, islet biology, and clinical diabetes research – to tackle this complex disease. Our investigators have extensive ties with the international diabetes research community and participate in international clinical trials for diabetes.
 
In 2018 the BC Diabetes Research Network was established at the BC Children's Hospital with a grant from the University of British Columbia. The BCDRN is a provincial network to connect diabetes researchers from across British Columbia. The network is a resource for the faculty, trainees and staff engaged in diabetes research across British Columbia.  BC Diabetes Research Network website.
Fast Facts
Housed at the research facilities at BC Children's Hospital Research Institute in the Translational Research Building
The Canucks for Kids Fund Childhood Diabetes Laboratories were created in 2002 with a $9-million award from the Canada Foundation for Innovation and British Columbia Knowledge Development Fund
In 2016 received $8.1 million award from Canada Foundation for Innovation and British Columbia Knowledge Development Fund for new instruments and technology
12 core investigators including 4 new recruits
In the past 5 years, diabetes investigators have supervised over 100 graduate students and post-doctoral fellows, and more than 80 undergraduates.
Created 50 new jobs with support from international, industrial and charitable funders
Since 2009, diabetes researchers have made 7 invention disclosures, filed 17 patents (provisional and utility), and filed 2 interinstitutional/option agreements.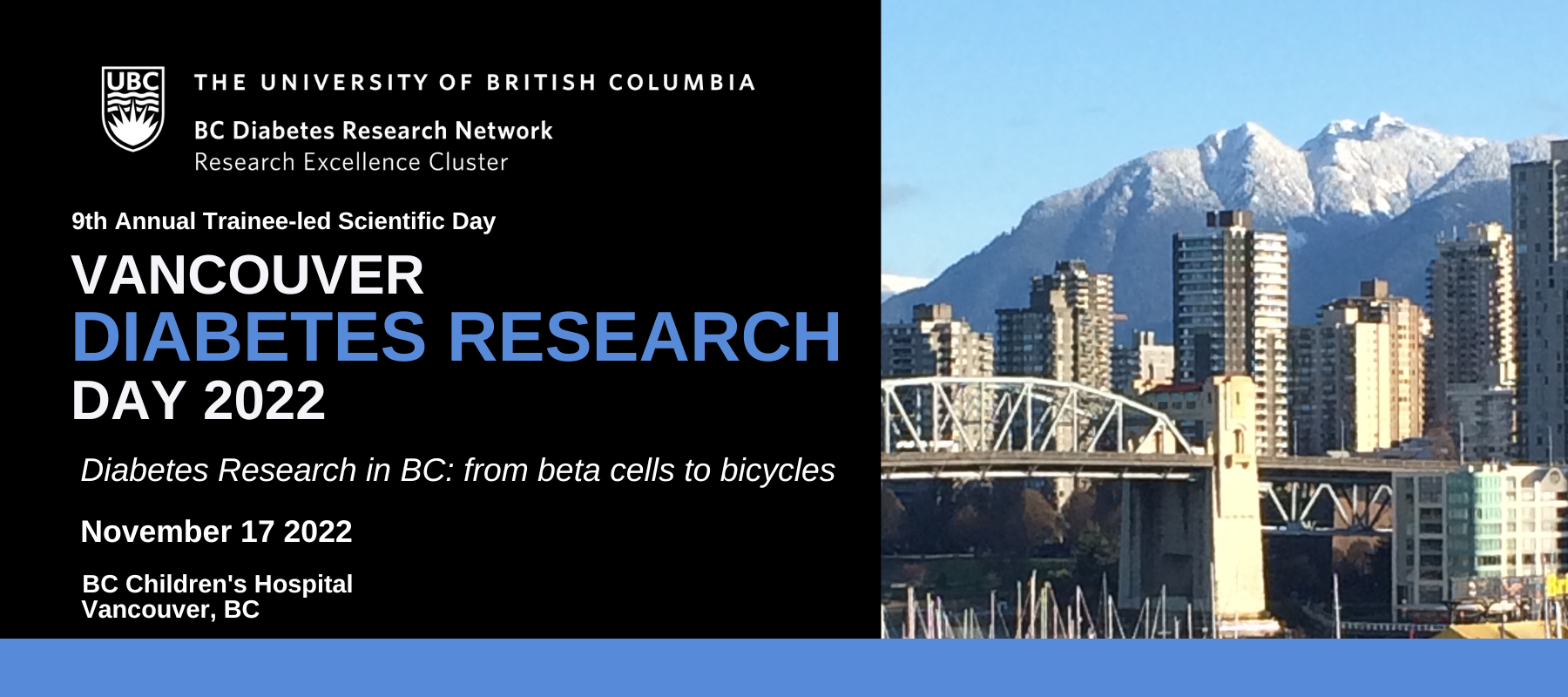 Call for Abstracts
Vancouver Diabetes Research Day 2022
November 17, 2022
BC Children's Hospital
Celebrating excellence in diabetes research in British Columbia, this provincial meeting highlights academic diabetes research from across B.C.
Topics include translational research, islet biology, cell therapy, complications of diabetes, prevention of diabetes and patient-oriented research.
The special event includes an invited keynote speaker and trainee presentations and scientific poster session.
For more information, visit the Vancouver Diabetes Research Day 2022 event page.
Registration and Abstract Submission
Click on the buttons below to register and to submit your abstract. 
Important dates
Submission deadline: October 28, 2022
Registration deadline: November 10, 2022
2023 Canucks for Kids Fund Diabetes Catalyst Grant Competition
Awards: Up to $70,000 for two years; non-renewable
Application deadline: December 16, 2022
Email PDF application to: Meg Hughes, Diabetes Program Manager at mhughes@bcchr.ca
Award Description
The CFKF Childhood Diabetes Laboratories aim to jumpstart exciting, high-risk/high-reward diabetes research through an internal Catalyst Grant competition. These pilot and feasibility grants will enable investigators to perform highly innovative and novel research projects funded by the Canucks for Kids Fund (CFKF) aimed at finding a cure for and improving the lives of children with diabetes. A CFKF Diabetes Catalyst Grant may:
Enable a scientist to enter the field of diabetes research from an unrelated field;
Generate preliminary data to support a grant application to another agency;
Implement or create new methods and technologies;
Create new collaborations and/or encourage multi-disciplinary research;
Stimulate new directions in diabetes research;
Launch a research project from an early stage to a more comprehensive
investigation.
Please click on the button below for more information and to download the request for applications.
Other Relevant Documents
Research Project Information Form  Catalyst Grant Budget
Contact: 
Meg Hughes
Diabetes Program Manager
mhughes@bcchr.ca | 604-875-2000 ext. 4905
Partners