Mini Med School is a BC Children's Hospital youth outreach program that takes a unique approach and has the reputation of being "anything but mini". This popular series uses big ideas, big discoveries and big names to engage high school students, teachers and the general public in learning and discussing health research topics.

Hosted at BC Children's Hospital and supported by the BC Children's Hospital Foundation since 2003, the Mini Med School program expanded beyond the Lower Mainland for the first time in 2017. Held in Terrace, over one hundred students from northern BC took part in this one-day award-winning science education program. Participants travelled as far as 143 km to explore a diverse curriculum highlighting leading-edge medical research and the variety of careers in health sciences.

Over the past two years, Mini Med School BC was held in Fort St. John, Kamloops and Williams Lake. Our faculty members were excited to be travelling to Victoria, Nanaimo and the Fraser Valley in 2022 after a 2-year break. For 2023 we were in Nelson & Castlegar.
Where to next?
Mini Med School will be on the road for years to come! We want to give as many communities as possible the opportunity to interact with BC Children's Hospital's world-class researchers and clinicians. For 2024 Mini Med School will be travelling to Vernon & Salmon Arm.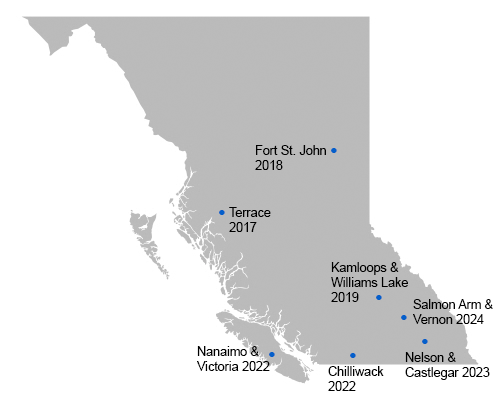 What do participants have to say about Mini Med School?
"I enjoyed every presentation very much, it was a great experience." 
"Great day overall! Opportunity for team work and a chance to interact with other students who have similar interests."
"I enjoyed hearing people's stories of how they got to where they are today." 
"I liked the presentation style, it was easy to follow and very interesting. All the speakers seemed passionate about their line of work and very friendly."
"Each of the presenters were awesome! I learned a lot and it was fun and engaging!"
Mini Med School feedback continually praises the passionate speakers, diverse curriculum, vocational guidance, and the real-life representation of health sciences.

For any questions regarding Mini Med School please contact researchevents@phsa.ca.