Dr. Melissa Woodward is a postdoctoral fellow with UBC's Faculty of Medicine. She has a PhD in Neuroscience from UBC. Her current research focuses on child and adolescent mental health and service utilization during the COVID-19 pandemic.
Using the MyHEARTSMAP virtual assessment tool, Dr. Woodward is looking at the psychosocial status of youth in British Columbia and their ability to access social support services and mental health resources during the pandemic. Prior to this, her research focused on how the brain is affected by external factors. Dr. Woodward will be one of five panelists at the Women in Science event on Feb. 10, 2022.
Making it personal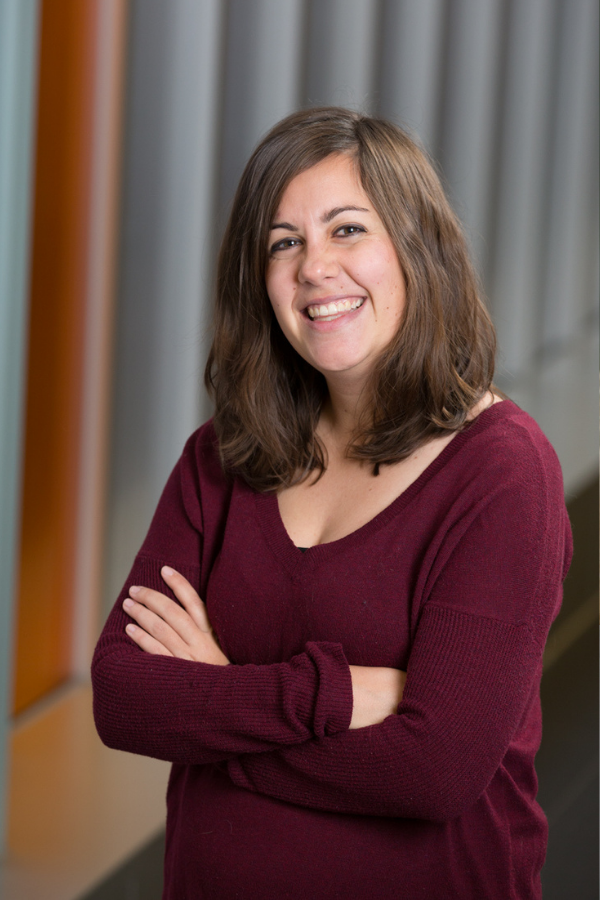 I really enjoy research related to mental health. Mental illness is being talked about more often and becoming better understood, but it's still ambiguous and there's so much we don't know. There is no lab test for any of these mental health conditions, for example.
The more we understand and talk about mental health, the better off we can be. The impact on quality of life and society, in general, can be really great.
Also, I just really like figuring things out that nobody else in the world really understands yet - solving puzzles and answering questions.
And I have personal connections. Mental health issues have affected a lot of other people I know. I also volunteer in the Downtown Eastside neighbourhood of Vancouver (DTES) on the board of directors of the Vancouver Women's Health Collective. That has given me even more perspective as I interact with a lot of different people and hear their stories. I also get to work with a wide array of health practitioners and service providers.
Shifting to a pediatric focus
Up until now, my research has largely been focused on how the brain is affected by external factors for individuals dealing with mental health and substance use. My PhD work involved people with schizophrenia and how exercise impacted their brain and symptoms. Most recently, I worked with people living in single resident occupancy hotels in the DTES, looking at brain changes over 10 years. We were specifically examining the blood vessels in the brain, looking for signs of cerebral small vessel disease. This damage to brain blood vessels is usually seen in people who are a lot older, in their 70s, but we were seeing this in a much younger group in the DTES, even in their 40s.
At the beginning of this year, I shifted my research to look at mental health from a service-utilization perspective in pediatrics. My current project focuses on kids and adolescents and their experience with mental health during the pandemic. What services have they been able to access and what needs have not been met in that area?
Research should be two-way learning
One of the most gratifying experiences I have had in my research career happened recently. A couple of months ago, we hosted a knowledge translation event at a DTES hotel. It was an art-based event and we gave out kits of art supplies to participants. We had posted prompt questions on the wall: "What does brain health mean to you?" "What challenges have you faced with brain health?" "What services have you found useful?". Participants created art inspired by those questions and talked to us about their brain health. People seemed to really enjoy sharing their stories.
This event came about because we not only wanted to share the research we've been doing, but we also wanted to learn more from people who participate in our research. That important learning can inform the next questions that we ask. That mutual learning opportunity was a really great chance to see some of the progress that has been made, not just in the research itself, but the impact the research might have.
It's not just doing studies and sharing the information. You actually need to talk to people and learn about their experiences and the barriers they are facing in accessing services. It's not that people don't know what's good for them.
For example, just giving advice such as "join a gym and get more exercise" doesn't apply when you are in the DTES. People are living in government housing and dealing with mental health and substance use issues. A lot of times they don't know what services are available or how to access them. There can be a whole host of barriers, so understanding what those are from the participants themselves is really valuable. And having those conversations can give us a better idea of what areas of research might be helpful as they transition to service utilization.
Building a career in research takes a lot of support
Finding good mentors is really critical. I have been incredibly fortunate to work with great people. Even when I think back to early days in my undergrad training, the people I got to work with were all really invested in my growth and development as a researcher. In my first year of undergrad, I worked with green algae in a lab! I learned a lot about science from great supervisors who supported me as a person, not just the work I was doing in their lab.
I had a series of really amazing mentors that helped shape my career path in a really valuable way. Trust your gut when you find those people and connect with good mentors.
But it's not just mentors. It's also peer support. Things can feel competitive when you are applying for limited positions and funding, but finding really great peer support has also been important. Looking beyond limited resources and really encouraging collaboration, sharing of knowledge and ideas as much as possible - that's really valuable as well.
Join us virtually as we celebrate International Day of Women and Girls in Science
Thursday, Feb. 10, 2022
Click here for event details
Registration is now completely full for this event.  To be placed on the wait list, please email researchevents@phsa.ca.
To read more profiles and keep on top of the latest research in child health, be sure to follow us on social media: