At BC Children's Hospital, clinical researchers get a first-hand look at the problems and health issues facing children through the direct care they provide to patients. This is certainly true for Dr. Quynh Doan, BC Children's new Director of Clinical Research.

As a pediatric emergency physician, Dr. Doan is often inspired to pursue clinical research by the patients and families she cares for at BC Children's. Her expertise in evaluating emergency care has led to the development of new tools and processes, such as HEARTSMAP, a digital tool that helps doctors ensure that kids receive the mental health support they need.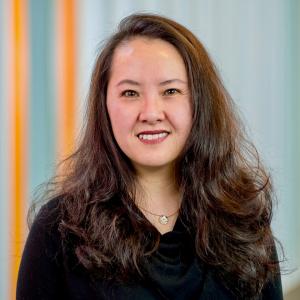 In her new role, Dr. Doan will advance the work of the previous Clinical Research Director, Dr. Soren Gantt, to expand the specialized support services offered by the Clinical Research Support Unit (CRSU) and foster a culture of clinical research innovation.

We asked Dr. Doan about what she's looking forward to in her new role, the research she's working on and how it's improving the care that she provides.
What are you looking forward to doing in your new role?
Thanks to the work of Dr. Gantt and the CRSU, we already have important resources in place that I want to continue to build on. This includes trained research personnel – including biostatisticians, research nurses, research coordinators and more – and quality improvement procedures for clinical trials. I'm excited to learn how we can improve the services we offer.
I would also like to focus on a multi-disciplinary approach to clinical research and bring in more collaborations with clinician investigators in areas like nursing, pharmacy, laboratory, and occupational therapy. For instance, we announced our Capacity Building Awards, where one of the criteria is that teams include multidisciplinary investigators, in an effort to further those collaborations across our community. These awards will help multi-disciplinary research teams establish and move forward with their research programs.
The research institute has a great trainee and learning program but I'd like to better promote and facilitate clinical trainee participation in research. We have many medical learners rotating through our community who are engaged with our investigators. I'd like to better integrate them into CRSU's programs and services to ensure they gain valuable experience with their research and to inspire them to pursue clinical research careers.
Finally, I would like to increase our attention to Equity, Diversity and Inclusion (EDI) in our approach to clinical research. From team composition, defining study questions and procedures, to the interpretation of results, I would like to explore ways to support clinical researchers in implementing EDI principles.
Why do you think it's important to support clinical researchers?
Clinical researchers want to improve care and create a future of life-long health for children. To me, as a scientist, we must take an evidence-based approach that's informed by research.
As caregivers, clinicians are face-to-face with how illnesses and health conditions affect their patients. They are best positioned to come up with the right research questions because they know what treatments or tools are needed to make a difference in their patient's lives. If there are researchers who are keen on doing this work, it's important to support them and allow that research to happen.
What research are you working on?
Currently, my research is on HEARTSMAP and its subsequent versions. HEARTSMAP is a digital tool that Dr. Tyler Black, an emergency psychiatrist at BC Children's Hospital, and I created, evaluated and implemented to help clinicians in emergency medicine, who are traditionally not trained in psychiatry, to conduct effective and comprehensive psychosocial screening assessments for kids and teens in mental health crisis. It also guides mental health management and how to help families navigate resources.
Our hope is that addressing the mental health needs of kids and directing families to the right resources will shorten the amount of time kids spend in hospital and reduce their chances of having to return to the emergency department, so they can go home sooner and get back to their lives.
We're now working on a self-assessment version, called MyHEARTSMAP, that kids and families can use themselves to screen for mental health needs. The goal is to catch mental health needs early on so that resources can be accessed sooner and prevent the progression of mental health issues.
We also used MyHEARTSMAP to screen kids in the province and assess the impact of the pandemic and public health guidelines on children's mental health. We've recruited more than 100 kids so far and have started our three month follow up. This study is moving swiftly and we hope it will inform what type of mental health resources are needed and where so we can better support our kids during this and future pandemics.
How has meeting with kids and families through your work as an emergency pediatrician impacted your research?
Conducting research isn't that different from providing clinical care because they both serve people.
Interacting with families gives me a sense of what is important to them and the problem from their perspective, and that makes my research more relevant.
Conducting research has also made me a better clinician. Developing the HEARTSMAP tool, in collaboration with mental health specialists, to refine what is needed from a mental health and emergency medicine perspective has improved my ability to address kids with mental health crises in the emergency department.
Since I started working in emergency medicine, a lot has changed and improved, and there is much more awareness about the need for mental health resources. Now, we can guide families to the support they need, and if we can't address all of their needs, at least we can explain why and where to find answers. I can see the results of clinical research in the positive reactions from families.
What do you like to do outside of work? Is there anything we might not know about you?
I love to play squash. Before the pandemic, I would play squash every weekend with my husband.
Food is integral to everything I do. My kids tell me that cooking and food is my language of love. That's how I show appreciation and care – I feed people. If you work with me, you know I love to bake and cook since there is always food at my meetings.