One of the many difficulties for clinicians responding to COVID-19 has been ensuring that kids have access to the emergency and urgent care that B.C. families depend on while ensuring the hospital is prepared for the pandemic.
In keeping with the provincial health officer's advice to encourage physical distancing, BC Children's Hospital has decreased the number of people on-site at any one time. Emergency procedures were made available for children that needed them while non-urgent appointments, tests and procedures were rescheduled.  ​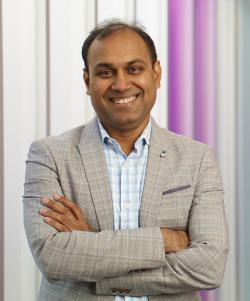 To help facilitate these changes, Dr. Kishore Mulpuri is the lead author on a paper offering critical advice on managing childhood orthopedic patients who need treatment during a pandemic. Orthopedics involves the prevention, diagnosis and treatment of the musculoskeletal system such as sports injuries, spine diseases, infections, and some cancers.
Dr. Mulpuri is an investigator and pediatric orthopedic surgeon at BC Children's Hospital and associate professor in the department of orthopedics at the University of British Columbia.
The guidelines, published April 2020 in the Journal of the American Academy of Orthopaedic Surgeons, gather expert opinion and evidence-based recommendations from surgeons in China, Italy and Singapore to help clinicians best care for kids who, for example, have broken a bone during the pandemic. 
"Even though people are largely isolated at home due to the pandemic, there will still be a need to conduct surgeries due to incidents at home, such as trampoline injuries," said Dr. Mulpuri. "Around 40 per cent of pediatric injuries requiring hospitalization or emergency department review occur in the home." 
To reduce the risk of infection for patients, the recommendations include:
Limiting patient reviews to just the attending surgeon. 
Minimizing in-person visits while maximizing remote follow-up by teleconference.
Postponing elective work, especially if it requires admission into the PICU.
Avoiding procedures that are more likely to spread droplets.
For children with non-traumatic injuries — such as developmental dysplasia of the hip (DDH), Legg-Calvé-Perthes disease (LCPD), clubfoot, or scoliosis — orthopedic care during COVID is more complicated. 
"The challenge with these conditions is that many of these children might be more at risk of contracting coronavirus because of their existing medical conditions," said Dr. Mulpuri.
"We also know from pediatric cases in China that infants under a year may be more susceptible to COVID which is the exact age range that the majority of children come to the orthopedic clinic for DDH. These patients represent a potentially vulnerable population during this time and assessments made to weigh the risks of infection versus delaying treatment."
In addition to providing advice from around the world for the best possible care for children during the COVID-19 pandemic, the paper also suggests that the necessities in changing practice may come with some benefits.
"The COVID pandemic presents unique challenges to the way we care for children, but there is also the potential for positive lessons that can result in meaningful long-term improvements in care," said Dr. Mulpuri.
"Once the dust has settled, it will be important for surgeons to look back on the way trauma and elective care have been managed during this period. Research will be needed to look at what the consequences of these interventions have been and whether methods of freeing up resources and remote care could be positive developments for care in the future."