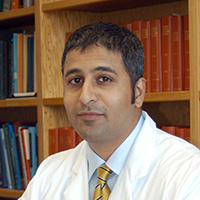 Spinal surgeries in children are incredibly complex procedures with little room for error. When these operations are successful they can restore children with severe scoliosis and other painful and debilitating conditions back to health, but mistakes and complications can lead to long hospital stays, the need for further surgeries or lifelong disabilities. 
In 2010, BC Children's Hospital became the first hospital in North America to introduce the Paediatric Spinal Surgical Team (PSST). In this pioneering approach to spinal surgeries, a core group of clinicians are consistently assigned these procedures. The goal was to improve care and reduce complications for children undergoing these technically challenging operations. 

New research led by BC Children's investigator and pediatric orthopedic surgeon Dr. Firoz Miyanji shows this effort has been a tremendous success. Since the introduction of the PSST, children are ten times less likely to have surgical site infections and more than two times less likely to need a blood transfusion. Patients also spent less time in the hospital following spine surgery and were less likely to develop long-term complications that required further surgeries. 
"These finding show that the specialized teams working cohesively in the operating rooms at BC Children's are really making a difference," says Dr. Miyanji. "We're giving kids who need spinal surgeries the best possible chance to heal safely and quickly so they can go back to enjoying their childhoods." 
Prior to the introduction of the PSST, any available operating theatre nurses, pediatric anaesthetists and neuromonitoring technicians could be assigned to spinal surgeries. Although these clinicians were all highly trained and dedicated, they didn't necessarily have experience with spinal surgeries, which are particularly delicate procedures with a high rate of complications. 
The PSST at BC Children's consists of eight operating theatre nurses, six anaesthetists and ten neuromonitoring technicians. Whenever a child goes in for spinal surgery at BC Children's, members of this team are assigned to the operating room. This team concept for pediatric spine surgery was the first of its kind introduced in North America, and clinicians at many other Canadian and US centres are now engaging their hospitals to develop similar programs based on the success of the PSST at BC Children's.  
Under the leadership of Dr. Miyanji, the clinicians on the PSST attended lectures on spinal surgeries, followed by an open forum where they could ask questions and share expertise from their respective fields. They also visited children who had had spinal surgeries in the hospital to learn about the importance of consistent post-surgical care and get a firsthand perspective on the impact these procedures have on patients and families.
Once the PSST was in place, the team worked together to introduce new protocols designed to reduce the risk of infection and improve post-operative care for children having spinal surgery. 
"When we introduced the PSST, we moved from a surgeon-centred approach to a patient-centred approach," says Dr. Miyanji.
"The success of the PSST shows the surgeon isn't the only important clinician in the operating theatre. Surgery is a team effort and all the clinicians work together to achieve the best outcome. We're putting patient needs first by ensuring all the caregivers who take part in spinal surgeries have training and experience in these challenging procedures."
To assess the impact of the PSST, researchers compared medical records from two two-year periods, one before the PSST was introduced and one after the PSST had been in place for several years. 
They found the PSST improved outcomes for children having spinal surgeries across a number of areas, even when researchers adjusted for other factors that can affect surgical outcomes like age, gender and the underlying condition being treated.

 After the introduction of the PSST:
There was a 94 per cent decrease in the surgical site infections; patients are ten times less likely to get an infection with the PSST in place
The average time each patient spent in the operating room decreased by 41.7 minutes
The average hospital stay decreased by 5.9 days    
Patients were 2.4 times less likely to require a blood transfusion during surgery
The percentage of children who needed unplanned follow-up surgeries decreased from 6.2 per cent to 2.9 per cent. 
"These statistics sound impressive, and they are," says Dr. Miyanji. "But it's important to remember that all these numbers represent actual kids treated here at BC Children's. Thanks to the PSST, there are dozens of children who didn't have to go through the pain and stress of post-surgical infections, who got to leave the hospital sooner and didn't have to go back for repeat surgeries."

The success of the team was also highlighted by the National Surgery Quality Improvement Program Spine Pilot Study which identified the BC Children's spine team has having the lowest combined morbidity following complex spine surgeries among 43 high-volume centers across North America.
Dr. Miyanji hopes the success of the PSST at BC Children's will lead to more hospitals adopting these teams. 
"Even though there's a growing body of evidence that specialized teams improve patient care, many hospitals still use traditional models of staffing," says Dr. Miyanji. "Implementing a specialized surgical team does require hard work and a shift in culture, but this study shows it's worth the effort. I'm pleased that BC Children's can serve as a model of how these teams make difficult surgeries safer and easier for children and their families."