For an overview on CAN-ASC, visit our About Us page.
Protocol development:
CAN-ASC harmonizes protocols using three types of laboratories: a central Coordinating Centre, and assay-specific Reference labs and Test labs. 
The Coordinating Centre is located at BC Children's Hospital Research Institute (BCCHRI). 
The Reference labs are experts in the assay to be harmonized. For each assay, a single Reference Lab takes responsibility for the initial phase of assay testing, examining key variables such as sample collection, timing, suitability of ex vivo versus cryopreserved samples and definition of reference ranges. The Reference lab creates an SOP and analysis templates to be distributed to three Test labs. Finally, the reference lab agrees to provide hands-on training to travel award recipients. 
The Test labs are then supplied with these SOPs, analysis templates and all necessary samples and reagents to carry out the assay. They provide feedback and evaluate the protocol itself as to clarity and ease of execution. The Test labs send raw and analyzed data to the Reference labs.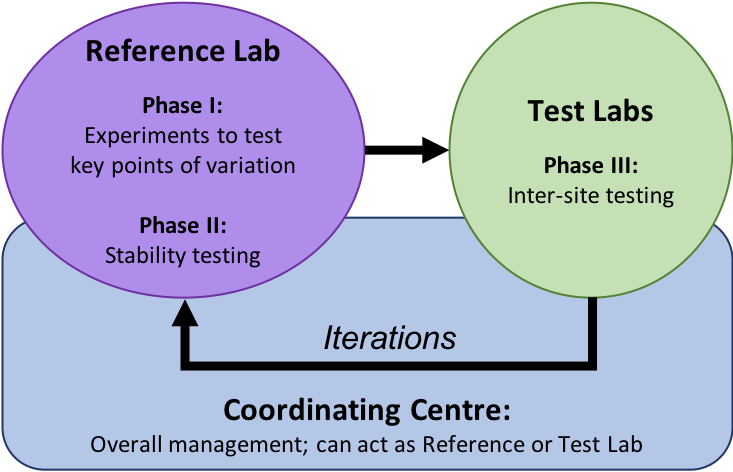 Results and finalized SOPs will be published in peer-reviewed, open access journals and links posted in Publications. Complete, detailed SOPs for experimental procedures, analyses, reporting templates and sample data will be available in Protocols. Questions, answers and community feedback will be published in the Q&A section. 
REDCap template development:
Anonymized and validated REDCap-based, online data collection and survey forms will be generated in compliance with data privacy and security standards to collect information on sex and gender. Templates for these data collection forms will be posted in REDCap Templates. CAN-ASC also uses these questionnaires for healthy volunteers and patients who donate biosamples for testing and validation of CAN-ASC protocols.