Dr. Megan Levings, a world leader in the field of immunology and a respected mentor and visionary at BC Children's Hospital, has been awarded the 2019 Geoffrey L. Hammond Lectureship.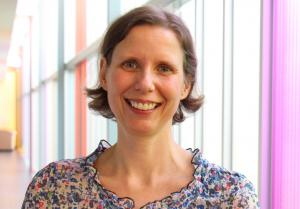 The Hammond Lectureship is BC Children's Hospital Research Institute's highest honour. Named for Dr. Geoffrey Hammond, the Research Institute's first scientific director, this award is given to a senior investigator who has made a significant impact on improving the health and well-being of children and families, served as a role model and mentor to junior researchers, trainees and students, over the last 10 years and provided leadership to the BC Children's research community.
Mentor, teacher, leader
It's a description that fits Dr. Levings to a "t" – or should we say "T-cell"? Since moving to BC Children's from the Vancouver Coastal Health Research Institute in 2011, Dr. Levings has trained more than 50 students, published more than 100 scientific papers and cemented her status as an international expert on the therapeutic potential of regulatory T cells. Beyond this, she has trained successful scientists and doctors who have since gone on to be leaders in universities, hospitals and industries all over the world.
A Treg pioneer
Dr. Levings developed a passion for immunology during her graduate training in genetics with Dr. John Schrader at the University of British Columbia (UBC). Then, as a postdoctoral fellow in Dr. Maria Grazia Roncarolo's lab in Italy from 1999-2002, Dr. Levings made critical discoveries about the function of regulatory T cells (Tregs) – a type of white blood cell that helps regulate the body's immune responses.
In 2001, Dr. Levings was one of the first to show that human Tregs could be isolated from blood and expanded in the laboratory. Importantly, her work showed that the regulatory power of these cells could potentially be harnessed to treat or even prevent immune-mediated diseases.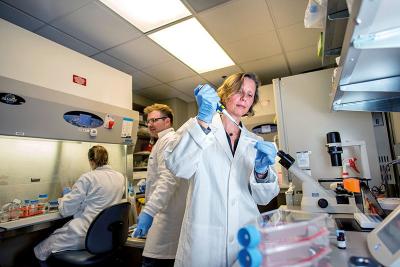 This discovery laid the foundation for Dr. Levings' future work which has expanded our knowledge of the cellular and molecular mechanisms that dictate Treg function and guided their testing as a therapy that could replace conventional immunosuppressive drugs. In 2018 her pioneering work on engineering Tregs with chimeric antigen receptors was highlighted by Nature in their Future of Medicine series and licensed by Sangamo Therapeutics for first-in-human testing. 
Leading childhood disease research 
In 2003, Dr. Levings returned to Canada, joined the UBC Department of Surgery and was appointed to the Tier II Canada Research Chair in Transplantation.
In 2011, she became an investigator at BC Children's Hospital and in 2013 was promoted to full Professor, just 10 years after joining the UBC Faculty of Medicine. She is currently the lead for the Childhood Diseases Research Theme at BC Children's, which includes more than 90 scientists studying various aspects of childhood diseases and disorders. She also has a leadership role in the TRACE program (TRAnsplantation and CEll Therapy) which is implementing cell therapy at BC Children's and establishing the infrastructure needed to realize the vision of harnessing the natural properties of the immune system to replace conventional immunosuppression.
An inspiring role model 
As a mentor to the next generation of scientists, she has trained three high school students, 24 undergraduate students, two Masters students, 15 Doctoral students, two clinical trainees and 12 Postdoctoral fellows. Her mentees have held many prestigious scholarships and her lab's alumni can be found all over the world as scientists in industry and academia or, as one example, the Chief Scientific Officer of JDRF Canada.
As the head of Childhood Diseases, Dr. Levings has shown incredible commitment and support for all those around her. Her consultative approach to leadership and efforts to enhance research translation for all childhood disease-related research at the institute have earned the respect and admiration of her peers and colleagues.
Dr. Levings' passion and excellence as a researcher, colleague, mentor and leader have made her a true role model and inspiration to everyone on the BC Children's campus. Each and every day her commitment to improving the health and well-being of children has led to tremendous advances in our knowledge and understanding of Tregs and how they can be used to a patient's advantage.
View the awards booklet for more information on the 2019 Geoffrey L. Hammond Lectureship, 2019 Outstanding Achievement Awards and the 2019 BCCHR Studentships and Fellowships.