Outdoor time has always been a priority for Deborah Bakker and her family, and even more so during the pandemic. At the beginning of COVID-19, when her two young girls were at home full time while she and her husband were juggling work, their afternoon routine quickly moved outside. Every day, there was a two-hour walk through the neighbourhood forest, with occasional detours to the nearby park. Now, Gwen and Katie are back in daycare and school, but the family still gets outside as much as possible.
"When we spend more time outside moving our bodies, looking at the trees and the sky, the girls sleep better and they are less moody," explains Deborah. "It really helps with their 'big feelings.' We all benefit from being in nature."
So, Deborah was excited when she learned that her younger daughter's daycare was going to be part of a research project looking at ways to increase outdoor play in early learning and child-care centres.
COVID-19 shines spotlight on the importance of outdoor play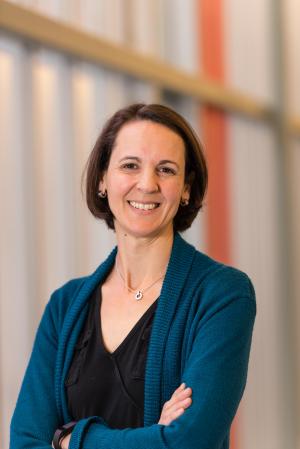 The research project is spearheaded by Dr. Mariana Brussoni, BC Children's Hospital researcher and director of the Human Early Learning Partnership at the University of British Columbia (UBC). It's called PRO-ECO, "Promoting Early Childhood Outside," and the team has been given a $1.3 million grant from the federal government's Early Learning and Child Care Innovation Program to launch the second phase of the study. The first phase, which started last year with a trial at eight YMCA daycare sites around Greater Vancouver, is ongoing. It was supported by the Lawson Foundation. The second phase with the new funding will involve a partnership with First Nations and Métis child care organizations.
"We already know from many other studies that more outdoor play is better. What we are doing with PRO-ECO is focusing on how we can change the behaviours and practices of early childhood educators and families, to support more outdoor play in their centres, especially in the context of the pandemic," says Dr. Brussoni, who is also an associate professor in UBC's Department of Pediatrics and the School of Population and Public Health. "Expanding the study will give us really important information so, at the end of it, we can come up with recommendations or guidelines that other child care centres can follow."
Dr. Brussoni's team has been working alongside the YMCA of Greater Vancouver on all aspects of this project, right from the initial design. They are examining several different components — from the attitudes and beliefs of the educators and administrators, to the outdoor play policies at each site, to provincial policies governing child care facilities.
"The staff education and training that is embedded within the project has brought renewed excitement and enthusiasm for outdoor play and exploration to our early childhood educators," comments Sarah Gallop, the YMCA's Manager of Early Childhood Development. "It has empowered our staff to spend longer periods of time outdoors, become more creative in planning outdoor activities for the children and become more confident in communicating the children's risky and outdoor play stories to their families."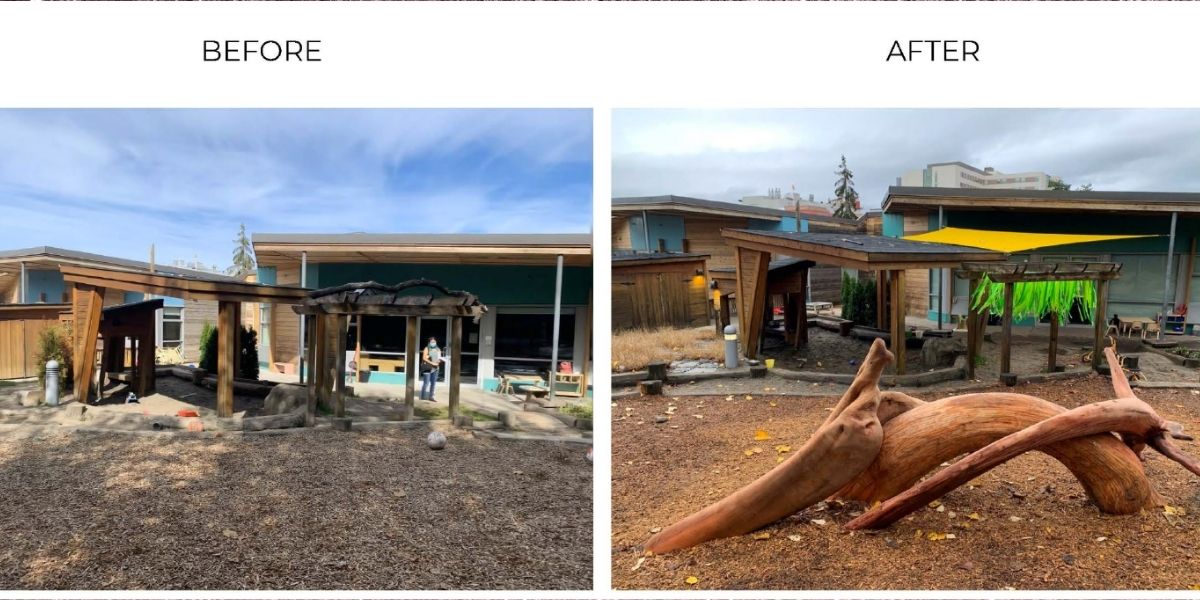 Getting creative with play space 'makeovers'
The final component of the project is the actual physical space itself. That is where UBC's School of Architecture and Landscape Architecture professor Susan Herrington comes in. She and a team of her students have been doing the 'dirty' work of remaking the outdoor play spaces. The budget is tight — $6,000 per site, with some of that provided by BC Cancer to incorporate sun safety into the interventions.
"Increasingly in Vancouver, child care centres are part of mixed-use complexes that also house condos and retail facilities. Since these complexes are typically made of concrete and glass, we see a great deal of hard, inert surfaces in the outdoor play spaces at these centres. This has made getting nature and natural loose parts into these places more difficult," observes Herrington.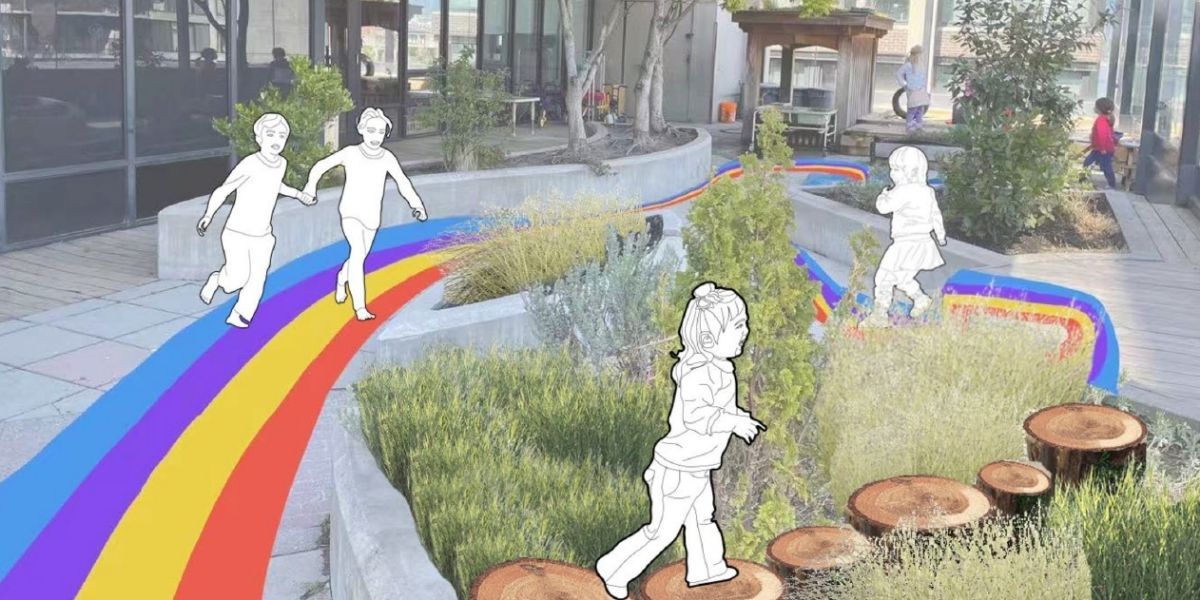 After spending time at each site and analyzing how children play in the existing areas, the students come up with ideas specific to each centre. They have worked with Métis herbalist Lori Snyder to learn more about incorporating Indigenous plants into the play spaces, and they teamed up with lumber artist Eric Scragg to recycle a giant tree stump into a natural wood climber for one site.
The team had to get creative, repurposing affordable materials to increase opportunities for play. Herrington shares one example, "Students used the tape that marks hiking trails as dangling streamers that sway in the breeze. It looks really beautiful and the kids leap and reach up to try and grab it."
In another example, one of the daycares is located under the Burrard Street bridge and the goal was to block some of the "questionable activity" that was happening outside. Herrington says, "We repurposed banners (commonly seen on construction fencing) that advertise development projects. Working with a local company, students created scenes of nature on the banners that they installed on the centre's fencing."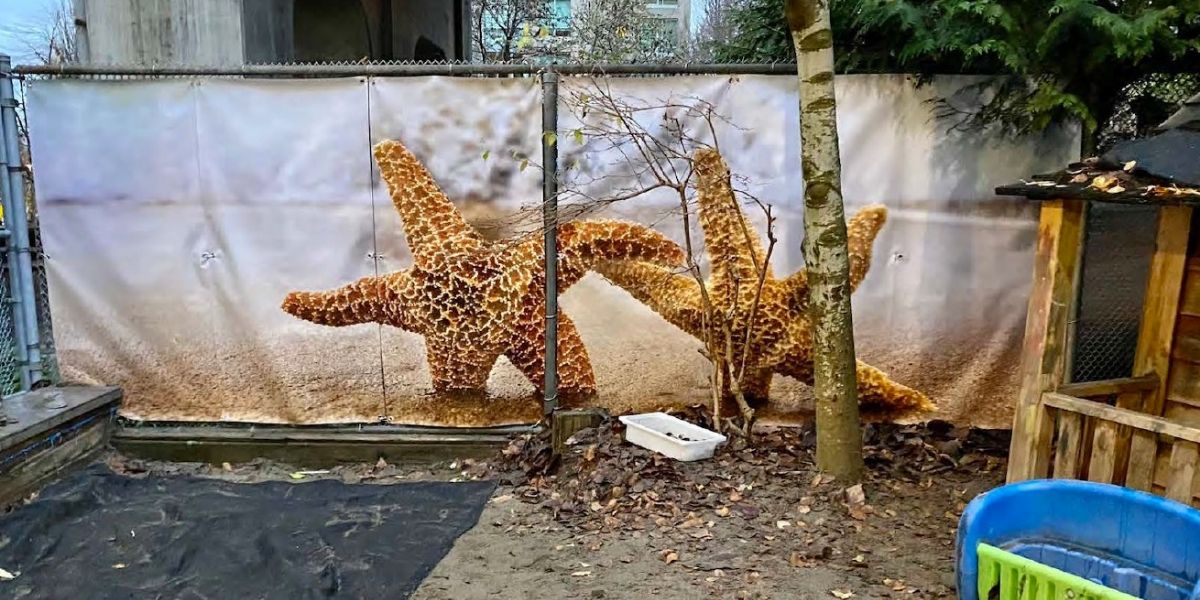 Young critics give enthusiastic reviews
The feedback has been overwhelmingly enthusiastic, especially at the eight centres that have now completed their outdoor space interventions. One child made a bouquet of leaves to give to one of the landscape architecture students. Another child made a painting as a thank-you gift. At one centre, the kids were so excited about new plants called "bunny tails," they created their own songs.
Leonilyn Lumbo, a veteran early childhood educator at Bob and Kay Ackles YMCA Nanook House Child Care, is an enthusiastic supporter. 
"The first time we all explored the updated space, it didn't take long to see how the children were excited to experiment and learn, especially when it came to climbing, balancing and many other valuable skills," Lumbo remarks.
There are many other benefits to increased outdoor play, according to Dr. Brussoni. Her other studies have shown children's well-being, depressive symptoms, pro-social and anti-social behaviours and anxiety were all significantly impacted positively by spending more time outside.
"If you think about your favourite childhood play memory, you are likely outdoors," says Dr. Brussoni. "If you dig further into that, people talk about a sense of joy, a sense of freedom, moving their body, shouting, immersing themselves in nature, playing with other kids outside. The importance of outdoor play has never been more evident than over the past two years during the pandemic."
Deborah Bakker has eager watched the transformation unfold at her daughter Gwen's daycare. She has seen first-hand the benefits of maximizing outside time, but she points out that it goes far beyond that. "Dr. E.O. Wilson's biophilia hypothesis really speaks to me, which essentially says that we won't save what we do not love. If you don't have a visceral connection to the trees and how they calm you, then you won't care if they cut down the tree," Deborah explains. "You can only get that by regularly being under a tree, and you can't just do that on the weekends."
-----------
Read Minister of Families, Children and Social Development Karina Gould's media release here.