In Canada and other developed countries whooping cough – also known as pertussis – is making a comeback. Despite a relatively high vaccination coverage, it's still life-threatening for young children. World-wide in 2014 there were over 24 million cases of whooping cough and over 150,000 children under the age of five died from the disease.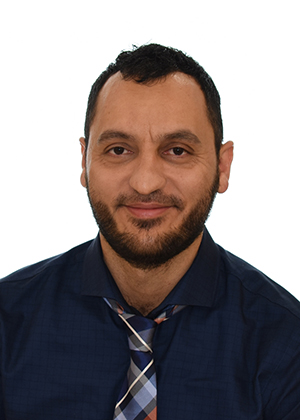 Making a better vaccine for whooping cough is the main goal of Dr. Bahaa Abu Raya's research. As a Pediatric infectious Disease physician and a University of British Columbia (UBC) doctoral graduate, Bahaa is based in Dr. Manish Sadarangani's lab at the Vaccine Evaluation Center at BC Children's Hospital where he is analyzing how different pertussis vaccines help the body fight the disease and whether they can be improved. 
Today, Bahaa was awarded a Vanier Canada Graduate Scholarship (CGS) for his research into whooping cough immunization in pregnancy that helped change Canada's national immunization guidelines on when expectant mothers should get a booster shot. This prestigious national award is valued at $50,000 a year for three years and helps Canadian institutions attract and retain world-class graduates.
We spoke to Bahaa about the work that led to the award and what it means for his future research.
Congratulations on your award! What is it you hope to achieve with this funding?
Thank you. This extra funding will go a long way to helping us understand how we can better protect children from pertussis.
Pertussis is a highly contagious disease caused by bacterium Bordetella pertussis that infects the respiratory tract and is known for violent coughing, which makes it very difficult to breathe.
The vaccine works by encouraging the body to make antibodies, which are small proteins our immune system produces to fight bacteria. Antibodies come in several different types; they can latch on to the bacteria and tag it for immune cells to destroy, or they can act like a sticky net, capturing the bacteria and smothering it so that it can be more easily removed from the body. These antibodies may also able to peel the bacteria away from cells lining throat and lungs and prevent it from causing damage to a child's airway.
By understanding how exactly these antibodies fight pertussis, our lab hopes to evaluate vaccines that are better able to produce the right types of antibody and enhance their ability to do their job.
The Vanier award is a fantastic boost to our work and highlights the important research going on at BC Children's and UBC.
Why are babies particularly vulnerable to whooping cough?
Infants are normally vaccinated for pertussis at ages two, four and six months, but aren't considered protected until they've received at least three doses. That's why it's critically important to shelter these babies from the disease in the first half-year of life. 
In previous research, myself and other members of Canada's Immunization Monitoring Program ACTive (IMPACT) looked at more than 1400 children who were admitted to tertiary care hospitals (such as BC Children's Hospital) with pertussis between the years 1999-2015. Importantly, this is not the entirety of Canadian cases within that time period, but just the ones admitted to specific hospitals. Of these 1400 kids, 357 were so sick that they had to be admitted to an intensive care unit (ICU) and 21 of them died. Of the 21 cases that died, 17 were younger than three months, before they received a valid vaccine dose.
In a world where vaccines exist to prevent serious disease, the number of deaths among young infants by whooping cough should be zero.
How can we better protect children from the disease?
Fortunately, scientists and clinicians now know that a vaccine boost to pregnant mothers can provide some protection to newborn infants. In our application for the Vanier scholarship, we highlighted our work demonstrating that if women received a vaccination between 27 and 32 weeks into the pregnancy they were most likely to develop a beneficial boost in maternal antibodies.
These antibodies can then be passed on to the fetus through the placenta and to the baby through breast milk. In this way, mothers can help grant immunity to the disease for the first few months of life – by which point the infants should be old enough to get a vaccine themselves.
This is estimated to protect around 90 percent of infants less than three months old.
The research our lab has carried out has helped set the guidelines in Canada by working out the best time for a pregnant mother to have a pertussis vaccine boost. Thanks to the Vanier Scholarship we can proceed to the next step of figuring out how to improve these vaccines using lab-based research at BC Children's Hospital and the Vaccine Evaluation Center.
What drew you to BC Children's Hospital?
When practicing as a pediatric doctor in Haifa, Israel, I was struck by how many children were still suffering from preventable diseases. I wanted to do my part to help come up with better ways to prevent the spread of these illnesses so I chose to specialize in research in infectious disease research.
BC Children's Hospital, UBC and the Vaccine Evaluation Center provided a unique blend of world class research and an opportunity to work alongside leading scientists with a track record of success.
I am excited to see what we find out next.