Dr. Allison Eddy was named a Fellow by the Canadian Academy of Health Sciences (CAHS) on Sept. 18, 2020.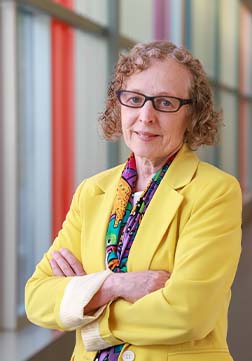 She calls being selected a great honour.
"I am excited to have this opportunity to contribute my passion, lived experiences and ideas towards the CAHS goals of advancing key issues relevant to the health and health care of Canadians and preserving health sciences to ensure that advances are sustained," says Dr. Eddy.
"Brainstorming with CAHS academic colleagues with diverse backgrounds and expertise will be an exciting opportunity. I am grateful for the incredible leadership opportunities that I have had in my current positions as chief of Pediatric Medicine at BC Children's Hospital and UBC professor and head of the Department of Pediatrics, which will help inform and enrich my work with CAHS."
The Canadian Academy of Health Sciences brings together Canada's top-ranked health and biomedical scientists and scholars to make a positive impact on the urgent health concerns of Canadians.
CAHS Fellows, drawn from all disciplines across our nation's universities, health-care and research institutes, evaluate Canada's most complex health challenges and recommend strategic, actionable solutions.
Dr. Eddy is internationally recognized for her discovery research into the cellular and molecular mechanisms of kidney fibrosis. This area remains a priority field of science in the quest for new therapies to prevent chronic kidney disease, which affects about 12 per cent of the population. She's a distinguished investigator who's also passionate about training the next generation of academic pediatricians and kidney disease specialists.
Dr. Eddy joined BC Children's in 2012 and was named the hospital's inaugural Hudson Family Hospital Chair in Pediatric Medicine in 2016. This position and the funds that accompany it enable her to attract top medical talent and to improve patient care, research and safety. Dr. Eddy launched a junior faculty two-year mentored scholarship program in health-care quality improvement that has trained and been advanced by eight scholars to date.
At UBC, she's currently leading the development of an innovative interdisciplinary research graduate program in Women and Children's Health Sciences – perhaps the first such program in the world – that's anticipated to launch in 2022. 
In addition to her academic and leadership accomplishments, Dr. Eddy remains connected to her roots as a clinician. 
Dr. Lori Brotto, executive director of the Women's Health Research Institute, and Dr. Joy Richman, a pediatric dentist who treats children with complex disorders at BC Children's, were also selected as Fellows.
"We are incredibly fortunate and proud to have leaders in health sciences research like Drs. Eddy, Brotto and Richman on the CW campus," says Dr. Jana Davidson, chief medical officer of BC Children's Hospital, Sunny Hill Health Centre for Children and BC Women's Hospital + Health Centre.