With hands-on activities, presentations on leading-edge health research and interactive career panels, BC Children's Hospital's travelling Mini Med School inspired and engaged 161 high school students from BC's interior and Cariboo region.
"Super great experience!" wrote one attendee. "Great speakers and learning opportunities. Kind staff and very welcoming."
Other attendees wrote, "I liked everything" and "can't wait to start my career in the health care field!"
Held in Kamloops on May 6 and Williams Lake on May 7, 2019, Mini Med School BC drew students from 21 schools in the BC interior. Ninety-eight per cent of the attendees said that they would recommend Mini Med School to others, and that they enjoyed the speakers, demos and the valuable learning experience.
"It's quite exciting to speak with high school students because they're the next generation who are going to be going into health sciences research and I think it's really important that we reach them," said Dr. Julie Bettinger in an interview with CBC's Daybreak Kamloops.
| | |
| --- | --- |
| Mini Med School trainees: Kate Wahl, Natasha Orr and Alyssa Kirlin | Dr. Julie Bettinger speaking to students |
Dr. Bettinger is an investigator with the Vaccine Evaluation Center at BC Children's Hospital and associate professor in the UBC Department of Pediatrics. She opened the event by using the zombie apocalypse as a model to show students how vaccines prevent disease from spreading across populations.
Next, students put their scientific knowledge to the test and competed for prizes by playing Research Jeopardy, led by Dr. Galen Wright and Dr. Britt Drögemöller, who are both UBC postdoctoral fellows at BC Children's and the Centre for Molecular Medicine and Therapeutics.
In a talk titled "Why are my periods painful? Endometriosis and pelvic pain," Dr. Paul Yong, an investigator at BC Children's and assistant professor in the UBC Department of Obstetrics and Gynaecology, shared his research on this chronic condition, which affects an estimated one in ten women and girls.
Dr. Amrit Dhariwal, an investigator at BC Children's and clinical assistant professor in the UBC Department of Psychiatry, talked to students about the growing scientific understanding of the deep connection between physical and mental health in her presentation "Health includes mental health!"
At the end of the day, students learned about careers in the health sciences from a panel that included both UBC graduate students and health care workers from local communities.
This is the third year that Mini Med School has been on the road. Previously, the special travelling edition of this award-winning science outreach program was held in Fort St. John in 2018 and Terrace in 2017.
"Mini Med school connects high school students with world-leading researchers and clinicians at BC Children's Hospital. It's a fantastic opportunity to gain an interactive experience with pediatric health research and explore future careers in the field," said Dr. Wyeth Wasserman, the Executive Director of BC Children's Research Institute.
Students also participated in hands-on activities designed and led by research trainees at BC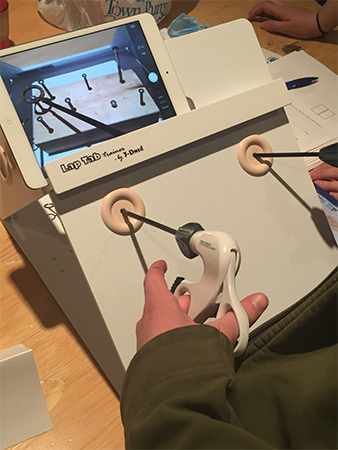 Children's including: 
Creating their own DNA extraction kit
Practicing surgery on a simulator
Learning how their genetics influence their taste buds
Building their own microscope
Mini Med School Kamloops and Williams Lake were hosted by BC Children's in partnership with Interior Health, First Nations Health Authority, the Provincial Health Services Authority, BC Women's Hospital + Health Centre, and the University of British Columbia.
First launched in 2003, Mini Med School has given thousands of high school students and members of the public the opportunity to learn about health research from the country's leading researchers. In Vancouver, the program consists of weekly seminars held over a six-week period every fall at BC Children's.
For more information, visit minimedschool.ca.