More than 7,000 Canadian children live with Crohn's disease or colitis and the incidence of Crohn's in Canadian kids under 10 has doubled since 1995. Both conditions are forms of inflammatory bowel disease (IBD), which can mean cramps, diarrhea and vomiting, and missing out on birthday parties, sleepovers, sports and school.
Now a new BC Children's Hospital study provides hope for children with IBD. The study, which made the cover of the European Journal of Immunology, showed that when specific immune cells are treated with intravenous immune globulin (IVIg), a drug made from antibodies collected from more than 1,000 blood donors, scientists can reduce inflammation in mice with colitis. 
IBD occurs when the body's immune system mistakenly triggers inflammation in the digestive tract. Inflammation is part of the body's normal response to illness and injury, but in conditions like IBD it can severely damage healthy tissue. 
Currently, the most common treatment for IBD is a drug called anti-tumour necrosis factor-alpha (anti-TNFa), which blocks an inflammation-causing signal in the body. Anti-TNFa also has side effects, such as an increased risk of infections, which are more common and can be particularly harmful in children with Crohn's or colitis.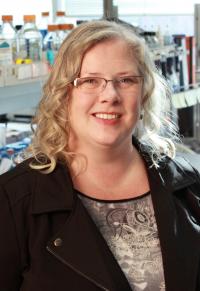 "Unfortunately, about 10 to 20 per cent of patients with IBD don't respond to today's treatments," says Dr. Laura Sly, the study's senior author. "Even when anti-TNFa does provide some relief, up to 40 per cent of people stop responding over time. There is an urgent need for new therapies for children and adults with IBD who have run out of options. That's why our study is so important."
Dr. Sly is an investigator at BC Children's and an associate professor in the Department of Pediatrics at the University of British Columbia. "Research into better treatments for IBD is vital to reduce suffering and preserve healthy tissue," says Dr. Sly. "The advantage of our study is that we are investigating a drug that has been in use for more than 60 years. This could help us move this research from the lab to the clinic faster, bringing much-needed relief to kids with IBD."
Clinicians have used IVIg since the 1950s to treat immune-mediated diseases and to help organ transplant recipients stave off infections. But despite its widespread use, the role of IVIg in promoting an anti-inflammatory response is not fully understood.
This new research from Dr. Sly, first author Dr. Lisa Kozicky, who was a doctoral student in Dr. Sly's lab and is now a post-doctoral fellow in Dr. Richard Blumberg's research team at Harvard, and Susan Menzies, a research assistant on Dr. Sly's research team, has made the role of IVIg clearer.
The research team worked with macrophages – a type of white blood cell that clears the body of microscopic debris and invaders such as bacteria, viruses, fungi and parasites – in a series of experiments. 
They showed that exposing macrophages to bacteria and IVIg could reduce inflammation in the guts of mice with colitis and improve their recovery. 
Previous work from Dr. Sly's lab has shown human macrophages changed their function and released chemical signals to reduce inflammation when they were stimulated with IVIg and a bacterial extract. 
The results of the latest study could lead to clinical trials.  
"No one wants to see kids suffering when they could be living happy, healthy lives," says Dr. Sly.
The project was funded by the Canadian Institutes of Health Research and Canadian Blood Services. Dr. Kozicky received the BC Children's Hospital Research Institute graduate studentship. Dr. Sly is also supported by the BC Children's Hospital Foundation. The work and experiments were carried out at the BC Children's Hospital Research Institute. The BC Children's Transfusion Medicine Laboratory provided the IVIg used for the research.