Dr. Joseph Ting is leading a new Canada-wide study that perfectly combines his passions and expertise: providing top-notch care for vulnerable babies and using statistics to research infectious disease. This staff neonatologist at BC Women's Hospital + Health Centre ultimately aims to protect newborn and preterm babies from the overuse of antibiotics and superbugs.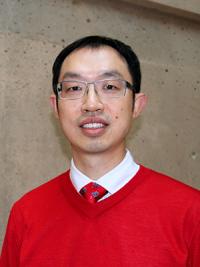 Roughly eight per cent of babies in Canada are born before 37 weeks of pregnancy and infections are the leading cause of death in these fragile infants. The earlier a baby is born, the greater the risk: One in 12 babies born before 33 weeks of pregnancy and one in two born before 25 weeks will contract an infection.
For this reason, infants showing signs of infection are often treated with antibiotics as a preventative measure. With these vulnerable newborns, doctors have to act quickly; infections can become lethal within a matter of hours, whereas waiting for lab results to diagnose an infection can take at least 24 to 48 hours.
While antibiotics save lives and can prevent babies from developing future health problems, these drugs also need to be used judiciously. Previous research has found that excessive or inappropriate antibiotic use is linked to the emergence of antibiotic-resistant organisms, also known as superbugs.
"Other countries with strong health-care systems are already showing a rise in multidrug-resistant organisms in their neonatal intensive care units, so it's very important for us to examine antibiotic use in our most defenceless population right now," says Dr. Ting.
"I would like to identify the extent of the problem in Canada and identify new practices that could help prevent an outbreak of drug-resistant bugs."
With the help of a Canadian Institutes of Health Research (CIHR) grant, Dr. Ting will lead a national study that involves more than 20 neonatal care units across the country. He and colleagues will expand the Canadian Neonatal Network database that has been capturing outcomes for infants for more than 20 years. They will examine how many days each newborn receives antibiotics, which antibiotics they receive and incidences of multidrug-resistant organisms, in a five-year study.
They'll also use the Evidence-based Practice for Improving Quality methods to disseminate their findings to frontline health-care practitioners.
New insights from two previous studies led by Dr. Ting helped him secure a CIHR grant of nearly half a million dollars for his latest study.
The first, published in JAMA Pediatrics in 2016, made a case for prudent use of antibiotics in babies. The study found that prolonged exposure to antibiotics among infants without strong clinical evidence of sepsis led to adverse health complications, including eye problems and even death.
The second paper, published in Pediatrics in March 2019, revealed that antibiotics could be used more thoughtfully. The study found that approximately one-third of infants in Canada received antibiotics for more than three days during their first weeks of life without clear evidence of sepsis.
"Neonatologists are very important gatekeepers," says Dr. Ting.
"We need to be discriminating about the amount and interval of antibiotics we introduce to babies' developing systems to ensure they aren't receiving unnecessary treatment that could negatively affect their health down the road."
"Babies born early usually need to stay in the hospital for several months and we are here to do everything we can to provide optimal care to them because what we do could affect their lives for the next 20, 30, 40, or 50 years."
Dr. Ting hopes that adopting evidence-based best practices will avert or at least slow the proliferation of superbugs in neonatal care centres.
"If we are able to achieve no rise in multidrug-resistant organisms in Canada, I will be very excited," says Dr. Ting. "We can't experiment with various antibiotics in an attempt to treat superbugs in babies with fledgling immune and organ systems. We need to act now to keep superbugs out of neonatal care units."