Cerebral Palsy Registry
Sunny Hill Health Centre is the BC participating centre of the Canadian Cerebral Palsy Registry, a confidential, nation-wide collection of medical and social information about children with cerebral palsy (CP). It was created to identify potential risk factors related to pregnancy and interactions of the environment and genetics. The Registry provides researchers with the approximate number of children with cerebral palsy across Canada, and data in the Registry helps researchers explore reasons behind the causes of cerebral palsy, in addition to supporting studies which may lead to improvements in the overall care of children with CP.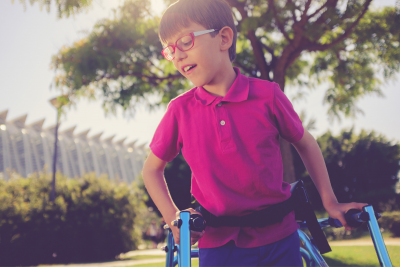 Cerebral palsy is the most common cause of physical disability in children in Canada and it is important that we gain a better understanding of its prevalence, risk factors and current clinical profile. The Canadian CP Registry provides valuable data from different Canadian regions which can be shared and analyzed so as to provide answers to these important questions. Specifically, the Registry serves to:
Characterize the profile of children living with CP across the country
Identify risk factors associated with CP
Monitor the prevalence of CP across the country
Provide a platform for subject recruitment for population-based research on CP
For more information about this study please visit the the Canadian Cerebral Palsy (CP) Registry website. 
Participate in the CP Registry
To enroll your child, please contact the Research Coordinator at 604-875-2345 ext. 458268 or vivian.wong@cw.bc.ca.
Related materials
FAQs
Click on the questions below to read our responses to frequently asked questions.
Who can participate?

We are looking to enroll participants in the CP Registry across Canada with the following criteria:

A confirmed diagnosis of CP
Ages 2 and up, born in 2009 or later
Residing in Canada

How do I register my child?

If you have a child who has a diagnosis of cerebral palsy (CP) and who was born after January 1, 2009, you can register in a number of ways:

Can I change my mind about participating in the registry?

Yes. Your participation in the CP Registry is entirely voluntary. You may also withdraw at any point in time. If you would like to withdraw your child's information, contact the BC project coordinator who will remove your child's non-identified information from the central web-based databank. At the local site, any paper copies will also be destroyed. Withdrawal from the registry will not disadvantage your child in any way or affect services being received.

What about my privacy?

We respect your privacy. The information you provide to the Canadian CP Registry is strictly confidential. Your personal information will only be seen by the principal investigator and the research team in BC. The data that will be uploaded into the Canadian CP Registry will NOT contain any personal identifying information. Your personal or contact details will never be provided to researchers or anyone else unless you specifically indicate it is okay to do so.

What about published information?

You are invited to browse the national CP Registry site where research results will be posted.

Other questions?

If you have additional questions, please contact the Research Coordinator at 604-875-2345 ext. 458268 or vivian.wong@cw.bc.ca.