Research
Harris Lab Research Team
Left to right: Monica, Nicole, Mimi and Ana.

 

Left to right: Mimi, Ana, Jimmy and Nicole.

 
"The Harris Lab focuses on congenital cardiac malformations in children and adolescents. They currently have ongoing research projects in the areas of interventional cardiology (focus on cardiac catheterization procedures and outcomes) and preventive cardiology (focus on physical activity in children and cardiovascular health)."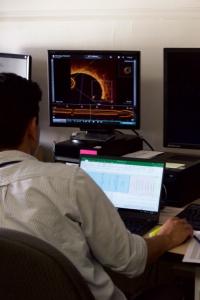 This photo shows Jimmy, one of the research assistants, analysing OCT (Optical Coherence Tomography) images – an emerging technology used to monitor vessel health and aid in earlier diagnosis of heart disease.  These images form part of our large international patient registry.
Sanatani Lab Research Team
Left to right: Michelle, Matt and Dania

 
"The Sanatani Lab focuses on heart rhythm conditions in children. The main area of interest is in inherited heart rhythm disorders. These conditions can affect the heart's ability to beat in a normal rhythm – known as an arrhythmia. They can cause sudden cardiac arrest or even sudden unexpected death. The Sanatani Lab has a research focus on one particularly dangerous type of inherited heart rhythm disorder called CPVT ('Catecholaminergic Polymorphic Ventricular Tachycardia') and coordinates an international pediatric CPVT registry. In addition to inherited heart rhythm disorders, the members of our team study the autonomic nervous system and its relation to dangerous arrhythmias. Each member of our small team is involved in consenting patients, data entry and analysis, as well as giving presentations at conferences and writing journal articles."
Children's Heart Centre
Exercise Physiology Lab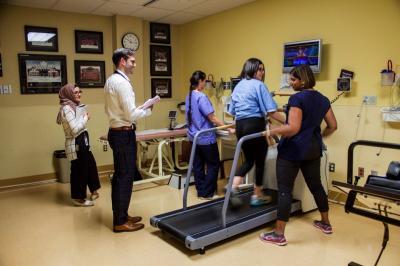 Astrid, the exercise physiologist, monitors cardiovascular function and overall fitness by carrying out exercise stress tests. During this test, Dr. Rathgeber and Dania monitor the patient's performance.
Echocardiography Technicians
Left to right: Maria, Josh, Kat and Shonna.

 

Kat: "I love working here because I can be myself, even Spiderman."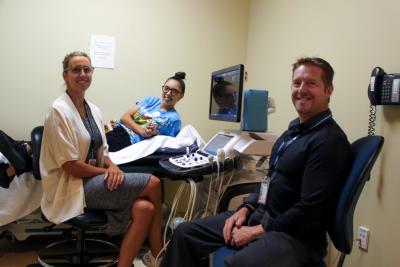 Lindsay has worked at the Heart Center for 17 years!

 

Lindsay: "I enjoy all of our heart patients; they really are special."

 
ECG (Electrocardiogram) Technicians
Electrophysiology Technologist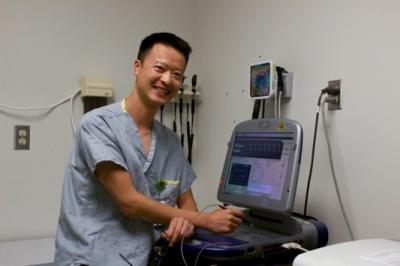 Daniel assists physicians in electrophysiology studies, ablation procedures and pacemaker or ICD follow-ups.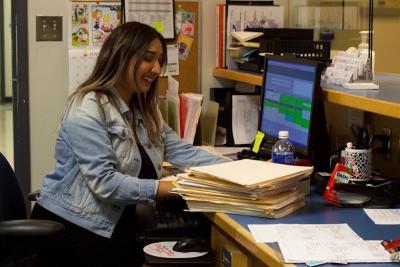 Photo credit: Ana Pozas