Our Research
The Institute for Global Health (IGH; formally the Centre for International Child Health) has developed Smart Discharges to help children stay healthy after they leave the hospital to return home following a severe infection.
What is the problem?
Children hospitalized for serious infections in Africa have a very high post-discharge mortality rate. This means that many children who seem healthy after an infection return to their homes and then get sick again and die. In places like Uganda, as many children die during the weeks after they are discharged from a hospital as die during hospitalization. Our data shows that 5-8% of all children discharged (depending on age) will die within 6 months of discharge. Most of these deaths occur at home. This pattern has been described throughout sub-Saharan Africa and parts of Asia.
Serious infections can include pneumonia, diarrhea or malaria. The danger is when infections lead to sepsis. Sepsis is a life-threatening condition where the body's response to an infection damages its own tissues and organs. Instead of local inflammation resulting from a local infection, which would be the appropriate response, the body's entire system goes into inflammation. Sepsis is the leading cause of death from infection around the world, despite advances in modern medicine like vaccines, antibiotics and acute care. Newborn babies, small children and the elderly are especially vulnerable.
Around the world, 11 million people die of sepsis every year. Children under five are especially vulnerable. We believe that many of these lives can be saved. One solution is identifying vulnerable children before they go home from the hospital so that we can make sure they have the tools to survive after they go home. This is the Smart Discharge model. 
How do Smart Discharges work?
We use a simple mobile app powered by scientifically rigorous, data-driven prediction models to identify vulnerable children. We then give those children and their families more support when they are leaving the hospital at discharge. The discharge kit includes extra education, basic hygiene and health materials and referrals to their local health clinics so they can be checked up by community health workers closer to home. It is an effective way to save lives.
We have been working in Uganda since 2011 to better understand how to identify children at risk and to design smart interventions. Our work has shown that five routinely collected clinical signs and symptoms (oxygen saturation, nutritional status, HIV status, prior admissions and coma score) at admission can accurately identify children who are at high risk of death after discharge. About 30-40% of children will be classified as high risk. Low-cost mobile phones are widely available. We add state-of-the-art mobile diagnostic tools to make it easy, quick, and accurate for health care workers in any setting to collect and analyse the data. These tools include a low-cost pulse oximeter and a respiratory rate app that were also developed by the Smart Discharges team. The app takes care of the complex and time-consuming math that translates signs and symptoms into risk predictions.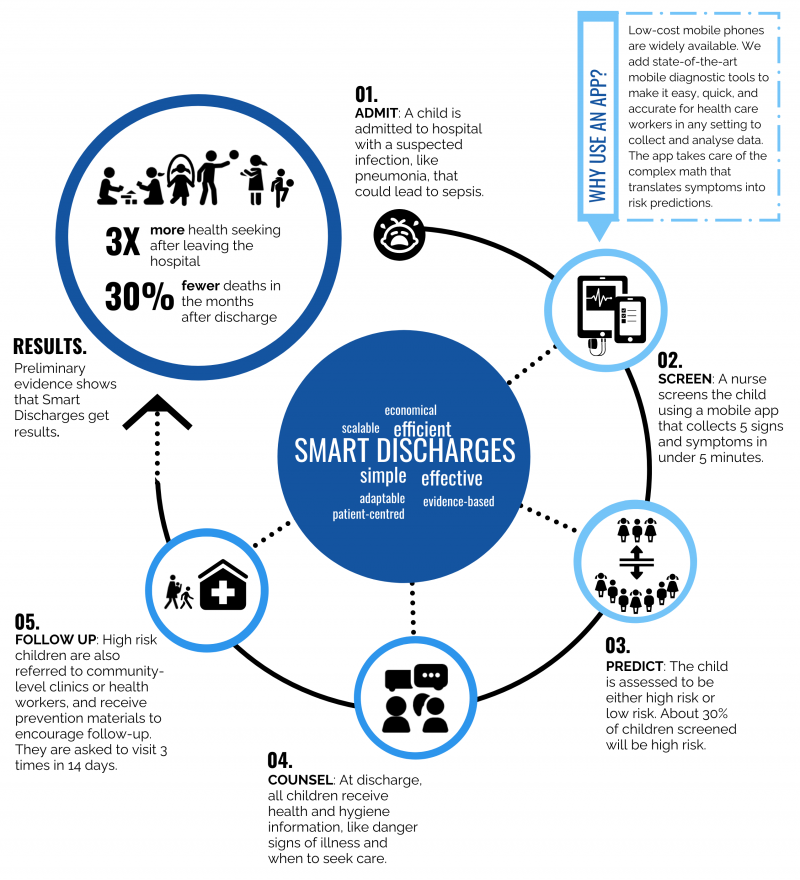 Where are Smart Discharges being used?
In partnership with the Uganda Ministry of Health, and our implementing partner, Walimu, Smart Discharges are now currently being implemented in 20 hospitals and health centres in Uganda: 
Mbarara Regional Referral Hospital
Holy Innocents Children's Hospital
Jinja Regional Referral Hospital
Masaka Regional Referral Hospital
Gulu Regional Referral Hospital 
St. Mary's Lacor Hospital
Awach Health Centre IV
Angaya Health Centre III
Patiko Health Centre III
Cwero Health Centre III
Layibi Techno Health Centre III
Bardege Health Centre III
Aywee Health Centre III
Pabwo Health Centre III
Labworomor Health Centre III
Kisiizi Hospital
Kisiizi Health Centre III
St. Andrews Health Centre III
Nyakishenyi Health Centre III (NGO)
Nyakishenyi Health Centre III (public)
Throughout 2021 and beyond, we will be initiating a pilot expansion at select sites in other countries in East Africa.
Smart Discharges Sites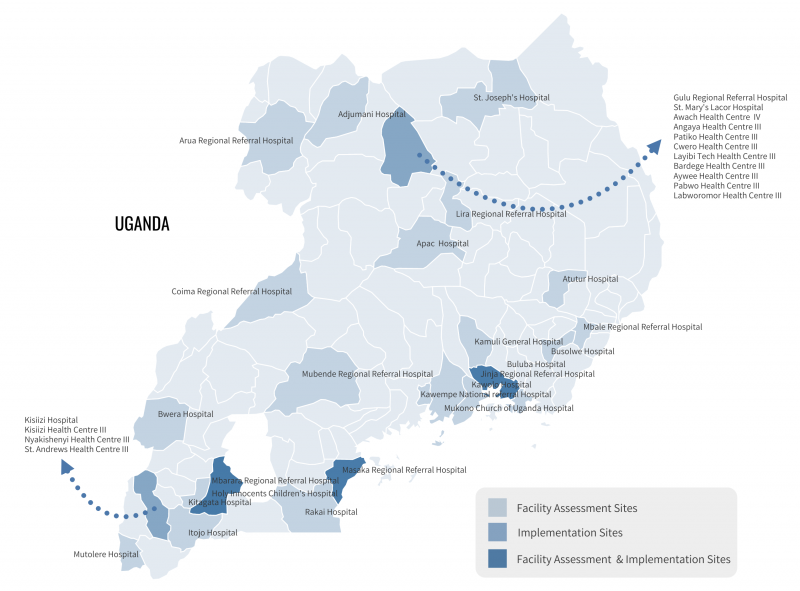 Why are Smart Discharges needed?
A good argument could be made that all children who are discharged are at risk and should receive good post-discharge care. However, in countries like Uganda, the resources are not always available to do this. This is why it is important to think about how to use limited resources smartly and precisely to help as many people as possible. We think about it as providing the right care to the right child at the right time. Smart Discharges help patients move from hospital to home and back again as needed with minimal changes to existing procedures. This is also important for parents of sick children. In countries like Uganda, visiting a clinic can be difficult and can mean long travel times on bad roads, so it is important to make sure the visit is really necessary.
Do Smart Discharges work?
Our preliminary results show:
a 3-fold increase in post-discharge follow-up, including visits to local health care clinics and workers
a 2-fold increase in re-admission, showing early identification and treatment of critically ill children
a 30% reduction in mortality
That means that children who receive a Smart Discharge are more likely to see a health care provider for at least one follow-up visit, are more likely to be re-admitted to hospital if they get sick again, and are less likely to die in the weeks after being discharged from the hospital. We are currently working to validate the impact of Smart Discharges. 
What is the evidence?
We studied 1,307 children from March 2012 to December 2013 to derive our prediction model, and then validated the model and tested the discharge kit with 216 children from December 2014 to April 2015. Our mobile app underwent extensive user testing to ensure it is easy to use and suited to local contexts.
In July 2017, we began a 2-phase prospective before and after study aiming to refine and externally validate the existing prediction models with children between the ages of 6 and 60 months. Phase I, the observational phase, concluded in 2019 with a total enrolment of 3,840 children. In March 2019, the interventional phase began, which aimed to determine the effectiveness the Smart Discharge program on post-discharge health seeking behavior and mortality. The last child was enrolled in March 2021 with a total sample of 3,904 children. Follow-ups for the interventional phase will continue until fall 2021. 
We are also working to develop specific risk prediction models for children under 6 months of age. Newborn babies and young infants are vulnerable to different kinds of infections than older children and their bodies react differently to infection. We cannot just use our existing models for these newborns and young infants, so we are building new prediction models for this age group using the same processes that we used for children between 6 and 60 months of age. Phase I was completed in October 2020 with a total enrollment of 2,708 infants. Our next step is the transition this cohort into an interventional phase to evaluate the effects of the Smart Discharges Program on death after discharge in young infants.
Smart Discharges for Mom and Baby
In 2019, the IGH expanded the Smart Discharges program to include a cohort of 3,200 mother-newborn dyads presenting at Mbarara Regional Referral Centre in Uganda. This project aims to build a clinical risk prediction model that will identify mother-infant dyads at highest risk for death and complications after discharge from hospital. Prediction of risk based on the mother and infant as a pair is a major gap in current research and vital to infant survival.
The ultimate goal is to develop an evidence-based bundle of care for both the mother and newborn, in which low-risk mother-infant pairs receive less burdensome (yet pragmatic and feasible) postpartum care, while high-risk pairs receive a more extensive bundle of interventions. In low-resource settings, this is imperative to maximize the efficiency of resource allocation and to improve health outcomes.
Is the Smart Discharges program sustainable?
Our work has contributed greatly towards advancing the evidence of the burden of pediatric post-discharge mortality and the potential for improving outcomes through a health-systems based approach; however, some important gaps still remain in terms of "how best to scale" the Smart Discharges program. We are currently working to answer this question through a 4-phase quality improvement project using mixed methods. This includes a facility scan to assess baseline readiness to provide pediatric discharge care at a nationally representative sample of hospitals in Uganda. This work is focused on ensuring widespread adoption of Smart Discharges practices throughout Uganda by building capacity that ensures sustainability. 
We have published extensively on Smart Discharges. A list of publications is included below.
Publications
Our team
The Smart Discharges team includes experts with strengths and perspectives from different fields, countries, and contexts. The Institute for Global Health at the BC Children's Hospital and BC Women's Hospital + Health Centre coordinates activities for the team. Our team includes experts in child health, sepsis, neonatology, mobile health, epidemiology, technology, engineering, software development, business, and program management. 
Research team
Dr. Matthew Wiens – Investigator, Institute for Global Health; Assistant Professor, UBC Department of Anesthesia, Pharmacology and Therapeutics
Dr. Nathan Kenya-Mugisha – Executive Director, Walimu
Dr. Niranjan "Tex" Kissoon – Professor, UBC Departments of Pediatrics and Surgery (Emergency Medicine)
Dr. Mark Ansermino – Executive Medical Director, Global Health; Co-Director, Digital Health Innovation Lab at BC Children's; Professor, UBC Department of Anesthesia, Pharmacology and Therapeutics
Dr. Jerome Kabakyenga – Director, Maternal, Newborn and Child Health Institute at Mbarara University of Science and Technology  
Dr. Elias Kumbakumba – Physician/Researcher, Mbarara Regional Referral Hospital; Associate Professor, Mbarara University of Science and Technology Faculty of Medicine
Dr. Celestine Barigye – Director, Mbarara Regional Referral Hospital
Dr. Stephen Businge – Director, Holy Innocents Children's Hospital
Dr. Peter Moschovis – Physician/Investigator, Massachusetts General Hospital   
Dr. Guy Dumont – Investigator, BC Children's Hospital; Co-Director, Digital Health Innovation Lab at BC Children's; Professor, UBC Department of Electrical and Computer Engineering
Dr. Charles Larson – Investigator, BC Children's Hospital; Clinical Professor, UBC Department of Pediatrics
Dr. Joel Singer – Professor, UBC School of Population and Public Health 
Software development team
Dustin Dunsmuir – Software Developer
Peter Lewis – Software Developer
Phaisal Lubega – Innovation Streams
Program management team
Jessica Trawin – Project Coordinator, Centre for International Child Health
Mellon Tayebwa – Project Coordinator, Mbarara University of Science & Technology
Clare Komugisha – Nurse Coordinator, Walimu
Support and thanks
The Smart Discharges team gratefully acknowledges our implementing partners, the Uganda Ministry of Health and Walimu, as well as our funding partners, including Mining4Life, BC Children's Hospital Foundation, the Thrasher Research Fund, Grand Challenges Canada, Canadian Institutes for Health Research, and Ehrla.
Contact
For more information, please contact Jessica Trawin or Matthew Wiens.