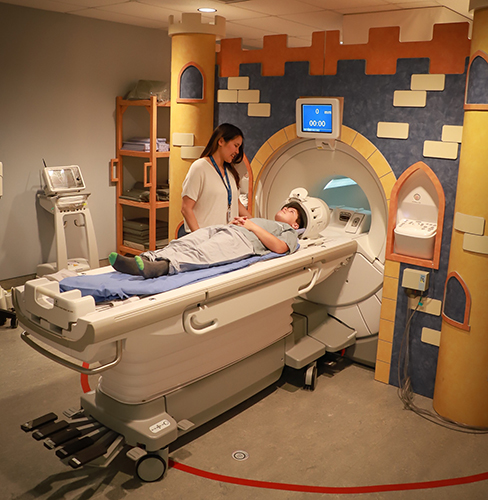 The BC Children's Hospital MRI Research Facility houses a 3T GE Discovery MR750 3.0 Tesla MRI scanner for functional MRI, structural MRI and spectroscopy. The current scanner software version is DV26.0_EB . 
The MRI Research Facility also features a child-friendly MRI simulator, which replicates the MRI environment and allows research subjects/patients to experience a simulated MRI scan prior to undergoing their research scan.
 
Child-friendly MRI simulator

MRI Compatible Neonatal Transport
Incubator with head coil for young infants

Child-sized MRI can accommodate infants and children of all ages
Other equipment includes:
Response Systems
Nordic Neurolab Response System
FORP response system
 
Visual Presentation Systems
NNL goggles
Projector
 
Audio Presentation Systems
MR Avotac audio system
MRI Confon audio system
 
Various MR coils, including head, hip, and body coils
 
Infant Scanning Technologies
MR-compatible incubator
 
Simultaneous Scanning Technologies
Dense array simultaneous EEG-fMRI
Simultaneous fNIRS-fMRI
Facility Bookings
Planning to visit the MRI Research Facility? Please make a booking here.
Quick Links
Conduct research at the MRI Research Facility
Information about research consent forms