BC Children's Hospital Research Institute is pleased to congratulate the recipients of the 2021 Outstanding Achievement Awards.
The Outstanding Achievement Awards recognize trainee achievements in research aimed at improving the health and well-being of children and families. This year's recipients are:
Outstanding Achievement Award by an Undergraduate Student
Emma Finlayson-Trick, Goldfarb and Karakochuk Research Teams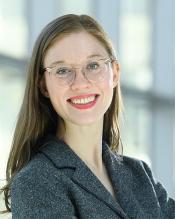 This award recognizes the outstanding achievement of an undergraduate or medical student whose research curiosity and engagement clearly demonstrate the individual's potential as a valuable member of the scientific community.
Emma Finlayson-Trick has a Bachelor of Science degree (first-class honours) in Microbiology and Immunology and a Master of Science degree in Microbiology and Immunology from Dalhousie University. Emma has been working with Dr. David Goldfarb and Dr. Crystal Karakochuk, on a project investigating the effect of two forms of iron supplements on gut bacterial composition in Cambodian women. She demonstrates exceptional academic and research excellence, and her work ethic and commitment is evident in everything she does. Emma is an extremely dedicated, motivated and well-rounded student and researcher who will continue to shine throughout her career.
Outstanding Achievement Award by a Master's Student
Kaitlyn Samson, Karakochuk Research Team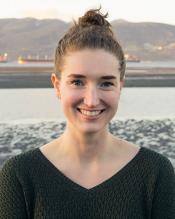 This award recognizes the outstanding achievement of a master's student whose research skills and analytical capacity clearly demonstrate the individual's potential as a productive member of the scientific community. 
For her Master of Science thesis, Kaitlyn led a randomized controlled trial in Malaysia that investigated the effect of once-weekly folic acid supplementation on folate concentrations in red blood cells in women, to determine the potential of folic acid supplementation to prevent neural tube defects (NTDs). Her findings showed that the higher dose of folic acid was superior to the current practice and provided rationale for adopting this new formulation globally. Kaitlyn is very active in the academic, research and volunteer community and is an outstanding team player and well-rounded young scholar whose contributions are already far reaching.
Outstanding Achievement by a Doctoral Student
Dr. Henry Lu, Turvey Research Team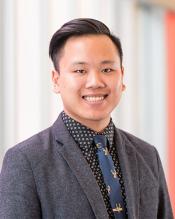 This award recognizes the outstanding achievement of a doctoral student whose demonstrated originality, research ability and capacity for critical thinking identify the individual as being likely to become a contributing member in the scientific community. 
Dr. Henry Lu completed a Doctor of Philosophy in Experimental Medicine from the University of British Columbia (UBC) in only four years. Working with Dr. Stuart Turvey's team, he has proven himself to be a prolific young researcher. His research has already had a direct impact on the lives of the patients involved in his research studies. He was able to help genetically and molecularly diagnose 11 children with various genetic variations. These discoveries allowed three of these patients to undergo curative hematopoietic stem cell transplantation and changed how various patients' treatment was managed. Through his dedication and hard work, he has managed to make a significant impact on research, diagnosis methods and patient care early in his career.
Outstanding Achievement by a Postdoctoral Fellow
Dr. Laura Schummers, Norman Research Team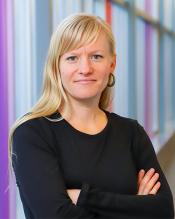 This award recognizes the outstanding achievement of a postdoctoral fellow whose high academic achievements, personal leadership qualities and demonstrated research ability show promise of the individual becoming a future leader in health research.
Dr. Schummers has a Bachelor of Science degree in Global Health Systems from University of British Columbia (UBC). She also earned a Master of Science and Doctoral of Science in Epidemiology from the Harvard T. H. Chan School of Public Health. As a Canadian Institutes of Health Research (CIHR) Patient-Oriented Research Leadership fellow, Dr. Schummers will bring a patient lens to her research using health administrative data to support optimal pregnancy spacing for high-risk populations (e.g., after a perinatal loss, preterm delivery or infertility). There is no doubt that as Dr. Schummers continues in her career, her scientific contributions and leadership, policy evaluation and knowledge translation skills will continue to have a significant impact on research, perinatal health, health services and policy, and on improving the health of infants, women and families.
Outstanding Achievement Award by a Resident
Dr. Sarah Silverberg, Sauvé Research Team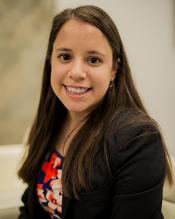 This award recognizes the outstanding achievement of a resident whose scholarly activity, industry and commitment to the research endeavour are an example to other trainees, and who has contributed to advances in child, youth or women's health.
Dr. Silverberg has a Bachelor of Arts and Science degree (honours) from McMaster University. After completing a bachelor's degree, she attended the University of Toronto where she received a Doctor of Medicine degree. She is a second-year pediatrics resident and has shown remarkable research productivity, showing tremendous dedication in the face of the pandemic, which has added an extra layer of complexity to conducting research. Her research has been focused on infectious diseases in children, particularly in the context of HIV-exposed but uninfected children, as well as pediatric COVID-19. Dr. Silverberg consistently shows enthusiasm, diligence, dedication and creativity in her work. Her impact has been felt during the pandemic, and she is well on her way to becoming an exceptional clinician scientist in pediatric infectious diseases.
Outstanding Achievement Award by a Clinical Sub-Specialty Resident or Fellow
Dr. Sarah Farrell, Mulpuri Research Team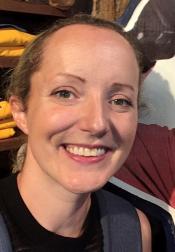 This award recognizes the outstanding achievement of a clinical sub-specialty resident or fellow whose research initiatives have been pursued in a conscientious, original and competent manner, and who has the potential for academic excellence in their future career in their chosen specialty.
Dr. Sarah Farrell attended the University of Aberdeen and received a medical degree (MBChB) in 2004, and then went on to complete her basic surgical training and examinations in Scotland and orthopaedic training in Queensland, Australia. She joined BC Children's Hospital in 2019 as a paediatric orthopaedic surgeon specializing in cerebral palsy, spina bifida, hip deformities and trauma. Dr. Farrell went above and beyond her responsibilities in her position, balancing both a busy clinical schedule in addition to working with various pediatric orthopaedic research teams with several manuscripts and protocols.
Dr. Farrell is involved in research both locally and in numerous international collaborations and registries, and firmly believes that this collaborative approach offers the greatest chance of obtaining strong evidence to inform the best treatments for patients. Her exceptional leadership and collaboration skills, as well as her ability to genuinely care for patients, make her an outstanding clinician, researcher and mentor.