To celebrate National Immunization Awareness Week, we spoke to the Vaccine Evaluation Center's Director, Dr. Manish Sadarangani, to learn about Center's research.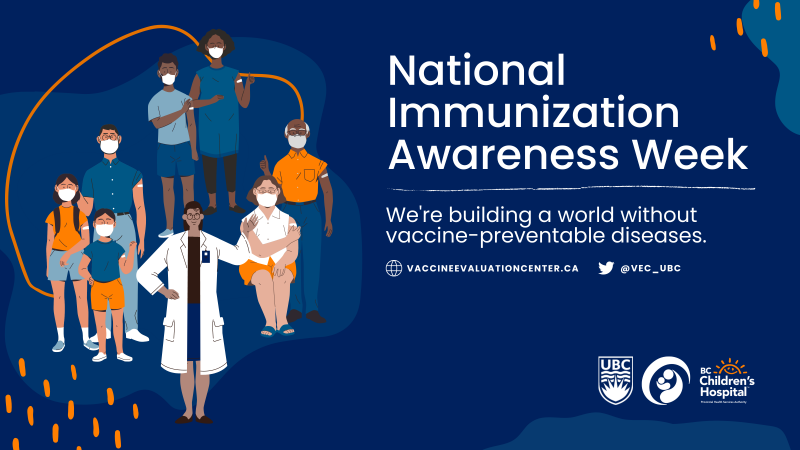 What type of research do you do?
I focus on translational research for vaccines, vaccine-preventable infections and infections that we hope will be vaccine preventable in the future.
That includes laboratory studies where we look at immune responses to vaccines using samples in the lab, epidemiology studies where we undertake surveillance of these vaccine-preventable infections as well as clinical studies which bridges early lab studies into getting vaccines into the arms of people.
What does a typical clinical study looks like?
The first step, of course, is the question that we're trying to answer, and that will come from understanding who is getting infected with the infection and who may benefit the most from a vaccine.
Once we've got the idea that has to be developed into what is called a study protocol, and that really is the rulebook for how the vaccine study will be done. The study protocol is then reviewed by multiple experts, including funders and an ethics board.
Once all of that is done, we then will start recruiting people into the study. Typically in a vaccine study, we collect blood samples and/or saliva samples from participants before and after vaccination to look at how people respond to a vaccine. We'll often call participants or ask them to fill in a diary card to document any significant side effects they have after a vaccine.
Once the samples are collected, there's all the analysis that has to be done in the lab to look at immune responses and then the statistical analysis of the data before we can have a final read out.
It's always an exciting time to see the data at the end. This is when we learn about the study outcomes, publish what we found and share with policymakers.
The whole study can take months or even years, depending on how long the follow up period is for people in the study.
What are some of the VEC's current clinical studies?
Right now the Vaccine Evaluation Center is doing a number of clinical studies of different vaccines and different diseases, and that includes COVID-19 also meningococcal and pneumococcal vaccines (which prevent diseases that cause meningitis and sepsis. We are also doing studies on the human papillomavirus (HPV) vaccine, which is the main cause of cervical cancer worldwide.
Some of our studies are focused on children, others focused on the general adult population, seniors and specific patient populations (such as immunocompromised patients). For example, we have a COVID-19 study going on now in children who are having solid organ transplant.
All of these studies involve really critical collaboration with our partners and a huge team of people here at the Vaccine Evaluation Center to make them happen.
Learn more about our recent research.

Meningococcal disease

Meningococcal disease is caused by bacteria called meningococcus and can lead to meningitis and septicemia (blood poisoning). Meningitis can cause hearing loss, seizures, learning and behaviour problems, severe brain damage and even death. The VEC is conducting a number of studies on meningococcal vaccines, including comparing approved vaccines in adolescents to see if there are differences and any are better than the others. We are also working with the World Health Organization (WHO) on a systematic review for evaluating the effectiveness and safety of meningococcal vaccines.

HPV

Almost all cervical cancers and most head, neck and anal cancers are caused by human papillomavirus (HPV). The QUEST study has recruited thousands of females across Canada to look at HPV vaccine effectiveness up to 10 years after vaccination. This year, we are starting QUEST-ADVANCE, which will look at differences between 0, 1, 2, and 3 doses in both males and females. Please email questadvance@bcchr.ubc.ca if you are interested in participating.

Immunization in pregnancy

The tetanus-diphtheria-acellular-pertussis (Tdap) vaccine is an important part of a healthy pregnancy, protecting mom and baby from whooping cough. Our team explored the effect of the Tdap vaccine and factors that affect the immune response in babies born to women immunized during pregnancy. The results showed that the babies of Tdap-immunized women in pregnancy had higher antibody levels during delivery and before their immunizations. However, after the baby received their vaccine the antibody levels were slightly lower compared with those of unimmunized women. Moving forward we will explore the impact this may have on infants' health and for other vaccines given in pregnancy.
What's the impact of this work?
The goal of our clinical studies is to change policy and to improve the way immunization programs are delivered. Ultimately, we want to make sure that we're getting the right vaccine into the right people at the right time.
Why should families participate in our research?
The most important part of our research are the participants. The only way to improve science and to move knowledge forward is by doing this kind of research. So, we really rely on the general population and specific patient populations to come and participate so we can do better for the future generations.
If you're interested in participating, please take a look at our open studies.