Welcome to this month's Research Roundup, a recurring overview of recent studies published by researchers at BC Children's Hospital Research Institute (BCCHR) and the University of British Columbia, and their collaborators.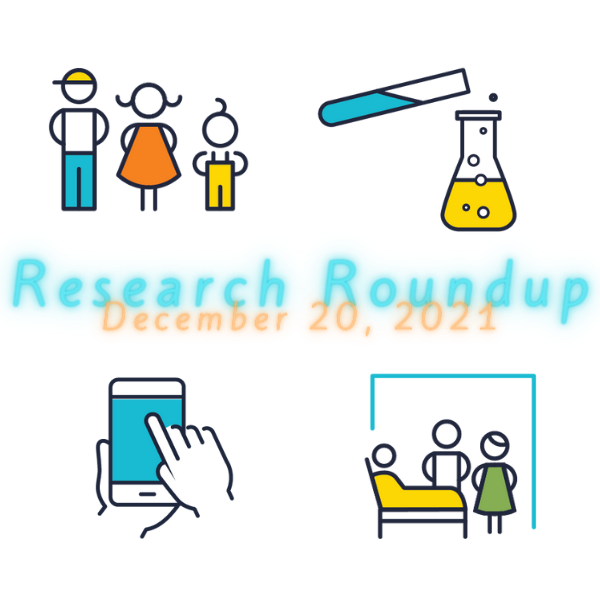 Newly defined parental anxiety related to child food allergy
BCCHR themes: Brain, Behaviour & Development and Childhood Diseases
Around 4-10 per cent of children are impacted by food allergies. Severe allergic reactions can be life-threatening and many parents of children with food allergies report being in a state of constant vigilance to ensure avoidance of possible allergen exposures. These parents' chronic anxiety, worry, guilt and other emotions can lead to significant distress and interfere with family functioning. Over time, the mental health, social functioning and overall quality of life in both parents and children with food allergies can be greatly impacted. Clinical approaches are needed to identify families who could benefit from increased psychological and social support.
Lead author Dr. Clara Westwell-Roper — under the supervision of Dr. Evelyn Stewart and Dr. Edmond Chan — and Dr. Sharon To, Dr. Lianne Soller, Boyee Lin, Cynthia Lu and Gordan Andjelic, analyzed the concept of food allergy-specific anxiety (FAA) and its effects, and determined the extent to which existing food allergy-specific outcome measures capture symptoms of parental distress and FAA. They found that emotional, cognitive and behavioural aspects of FAA were only partially addressed by existing measures, and that very limited attention has been given to the impact of social determinants of health in research on family experiences of food allergy.
"Current food allergy-specific measures fail to adequately capture dimensions of FAA, suggesting that further work is needed to improve the assessment and monitoring of FAA and its impacts," wrote Dr. Westwell-Roper and colleagues. "Our detailed description of this construct represents an initial step in developing standardized methods for assessing and monitoring FAA in clinical populations."
Read more in "Food-Allergy-Specific Anxiety and Distress in Parents of Children With Food Allergy: A Systematic Review," Pediatric Allergy and Immunology.
Enzymatic methods provide greatest accuracy when measuring serum creatinine in children with diabetic ketoacidosis
BCCHR theme: Childhood Diseases
Ketone bodies are blood acids produced when the body burns fat for energy. When the body cannot produce enough insulin — as in the case of diabetes — it breaks down fat too quickly, resulting in excess ketone bodies in the blood. This condition is called diabetic ketoacidosis (DKA) and, if left untreated, can lead to severe dehydration, kidney damage and other serious complications. One- to two-thirds of children hospitalized for DKA develop acute kidney injury, highlighting the importance of accurate testing and diagnosis. Creatinine blood tests are used to measure kidney function, but ketone bodies can interfere with these tests and result in falsely high or low results.
Dr. Li Wang, Dr. Joshua Dubland, Dr. Graham Sinclair, Dr. Richard Cleve, Dr. Dailin Li and Dr. Damian Feldman-Kiss investigated the accuracy of two enzymatic and two Jaffe creatinine-testing methods. While enzymatic tests are used in several pediatric hospitals, general hospitals tend to rely on Jaffe methods due to their lower costs. The team found that the enzymatic tests were largely unaffected by the presence of ketone bodies while the Jaffe methods were highly susceptible to interference by acetone and acetoacetate (types of ketones).
"Our findings inform the clinical community of the challenges that can be encountered when Jaffe methods are used in hospitals that care for patients with DKA," said Dr. Wang. "Strategies that will lead to the highest quality of care include increasing awareness of the ketone body interference profiles, indicating when Jaffe methods are used to determine serum creatinine in patients with DKA, and standardizing all of the serum creatinine methods to an enzymatic method."
Read more in "Interference of Ketone Bodies on Laboratory Creatinine Measurement in Children With DKA: A Call for Change in Testing Practices," Pediatric Nephrology.
A new provincial pediatric diabetes registry will improve care
BCCHR themes: Evidence to Innovation and Childhood Diseases
Diabetes is one of the most common lifelong childhood disorders affecting approximately 40,000 children and youth in Canada. Research indicates that even with new technology and medications, many of these individuals are still not meeting recommended treatment targets. For example, many experience poor blood sugar control and miss appointments with their diabetes specialists. Children and youth with diabetes are also more likely to have lower quality of life and develop additional health problems such as heart or kidney disease.
To address ongoing barriers to positive outcomes and improve quality of care, pediatric diabetes health-care providers and decision-makers in British Columbia have prioritized the creation of a provincial pediatric diabetes clinical registry. According to Dr. Shazhan Amed, Dr. Daniel Metzger, Dr. Elodie Portales-Casamar, Crystal Ng and Aysha Ayub, these types of registries facilitate provincial standardization of care through quality improvement initiatives aimed at improving diabetes care processes, care coordination and patient outcomes.
"Over the last few years, we have completed the first steps in the development of the BC Pediatric Diabetes Registry (BC-PDR)," said Dr. Amed. "The next step is to engage patients, caregivers, clinicians, and provincial and regional decision-makers in the development of an electronic benchmarking dashboard that will compare clinical outcomes across clinics and regions, identify variation in management and outcomes, and support best practices to ultimately improve diabetes care for children and youth in B.C."
Read more in "Towards Building a Provincial Diabetes Registry of Children and Youth Living With Diabetes in British Columbia, Canada," Canadian Journal of Diabetes.
Do you have a question about this article or other BCCHR news?